Shabby chic decorating is a very common word today when it comes to furniture. Or maybe it would be better to say abused, because not everyone knows exactly what it identifies and is often associated with a dresser, a table or a wardrobe even if those pieces of furniture actually have nothing to do with the shabby chic style.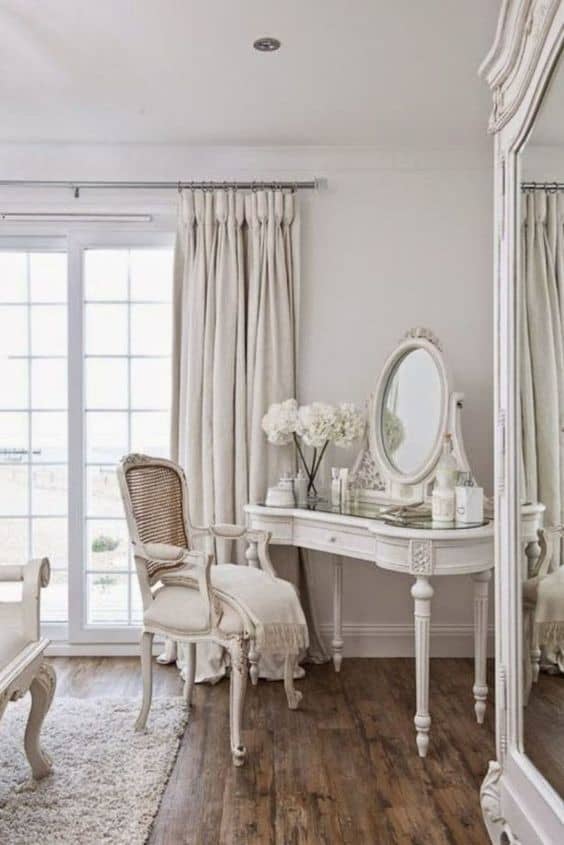 Source: Pinterest
To understand what we are talking about, let's start immediately from the meaning of the word: Shabby is an English term that means worn, unkempt, while chic is its exact opposite. Shabby chic therefore literally means Spoiled Elegant: even only from the name you can understand some characteristics of this style.
The first time that the term shabby chic made its appearance in the world of furniture was in the now distant 1980 on the pages of The World of Interiors magazine, and since that moment we have never stopped talking about it.
But why Worn & Chic?
The answer is simple: because shabby chic furniture is characterized by extremely elegant furniture, with classic and refined shapes, inlaid, but their painting appears ruined, worn, with the edges often of living wood. But be careful! We said it appears, which means it really isn't. It would be more correct to say perhaps "with a worn effect finish".
Source: Pinterest
It is a style, therefore, in addition to the shapes and the type of finishes, even the shades and colors must follow certain dictates.
The elements that characterize the shabby chic style are:
never bright colors, but soft colors that gravitate around the shades of white
many details in fabric, cotton and linen
objects with an antique look, or truly period and romantic flavor: candles and candelabra, frames and mirrors
furniture and accessories that follow the Victorian style in appearance.
How to furnish your home in a shabby style
Unlike many other trendy projects, shabby chic decorating is a timeless style.
If to furnish in other styles, vintage for example, the watchword is freedom – always with an eye to good taste – to furnish a home in a shabby chic style it is necessary to follow very specific rules, First of all: consistency!
The main color of the shabby chic style of furniture is white.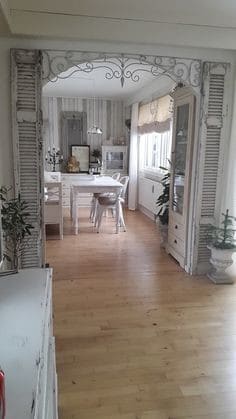 Source: Pinterest
If you want to furnish your home in a shabby chic style, avoid strong color contrasts, vary by playing on soft shades such as ivory, beige, dove gray or gray. Don't forget the other key feature of colors: strictly pastel shades!
But be careful: furnishing your home in this style is not at all simple, because you risk creating very cloying or visually flat environments.
Shabby chic fabrics
The shabby chic fabrics are linen and cotton, but always chosen within the spectrum of color tones seen above. The shabby chic style recalls a romantic atmosphere and, for this very reason, it is important to welcome lace: also in this case, the most difficult thing is to maintain the right balance.
To intensify the romantic atmosphere even more, alongside the coarser linens and cottons you can insert – with care – more refined details in satin or silk. The design of the furniture is played on a thin thread: the different elements must be well balanced to give a harmonious result.
Shabby chic style furniture and objects: how to choose them?
We often hear that the shabby chic style is a very economical type of furniture because it is made with recovered and stripped furniture. Of course, the inclusion in the rooms of furniture details extracted from some family attic is contemplated, but the whole house shouldn't be filled like this!
Remember what we said above: coherence and elegance!
Old objects randomly taken from the cellar of grandparents and uncles can be made similar by painting them with the same style, but more furniture with different cuts, with different decorations put together in a room will never make a good effect.
Shabby chic style objects and furnishings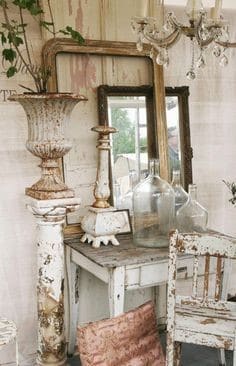 Source: Pinterest
Thanks to the great and long-lasting success that overwhelmed it, shabby chic furniture is perhaps the style for which you can find the largest range of objects and furnishing accessories.
We have already talked about linen: in addition to sheets, curtains and tablecloths, enrich your bedrooms or your shabby chic living rooms with cushions and blankets. Getting carried away by birdcages with plants inside, lanterns, candles, linen baskets and wicker baskets is easy, but be careful not to turn the house into a fantasy movie set.
With shabby chic objects you can only indulge yourself but it is essential not to overdo it. In this style in particular, the line that separates the elegant from the tacky is really subtle!
Do not combine modern furniture with shabby chic style
If someone tells you that decorating in a shabby chic style means taking old furniture to give a vintage look to the house, follow this advice: nod and pretend it never happened, It's not true at all!
It is partly correct to say that the shabby chic style can also be achieved with antique furniture which has been given the typical appearance of this genre, but it is equally true that it is not a fixed and above all generalized rule. True shabby chic, the one with an elegant and refined appearance, can only be obtained by purchasing furniture designed and manufactured specifically for this purpose!
It is not easy but it is still possible, and above all of great effect, to combine certain typical dictates of the shabby chic style with some of the more contemporary styles of furniture. Obviously you have to make sure that the keyword remains white anyway.
Lots of white but not only.
Source: Pinterest
Perhaps more than in other cases, for a shabby chic style furniture resorting to the help and experience of a professional is the best way to fill your rooms with harmony. The most modern furnishing styles are increasingly linear, lean and free of frills.
On the contrary, the typical shabby furniture is very worked, with rounded shapes, far from simplicity, rich in engravings and decorations. By carefully choosing every single element, it is possible to obtain excellent results by combining both schools of thought. With the touch of the professional the result will be amazing!
Care is not needed only in the choice of furniture, but also on the possible combinations of colors that may go beyond the classic total white typical of the Shabby, which, in the long run, could dampen some enthusiasm and become boring and heavy.
Pure shabby chic style isn't for everyone!
But if it fascinates you, you can get help to integrate some details with more immediate solutions. One of the greatest advantages of the shabby chic style, in fact, is its timelessness: shabby furniture can be blended well with even the most modern ones.
Decorating Shabby Chic in each room:
The basic concept of this furniture is to imitate a retro style, preferring natural materials such as wood and stone.
The kitchen is certainly the house environment at the heart of a home, which makes grandmas come to mind, and with Shabby Chic it is easy to recreate that atmosphere.
In the living room, the furniture must be essentially white or light wood, such as bleached oak, decoupled. At the beginning, it is appropriate to focus on essentiality, therefore few pieces of furniture with a great visual impact will do.
As for the bedroom, white is always a leading color in the relaxation environment. The lines must evoke romanticism, typical of Victorian workmanship, embellished with decorative elements with a simple and minimalist design. Furnishing accessories tend to have a worn look that can evoke their own history and experience. For the floors, you can use wood, terracotta tiles, but also a rough parquet.
Even in the garden, there are many ways to enjoy this very romantic style, with objects such as watering cans, wooden or wrought iron tables and chairs, flower boxes, but also old bicycles or carts.
Source: Pinterest
Although a well-defined style, Shabby Chic allows you to give a lot of space to your imagination and creativity, in the recovery of antique objects and furniture, and in the choice of objects and furnishing accessories.
Are Shabby chic and Provencal style the same thing?
A lot of confusion has arisen around the decorating shabby chic style: it is often confused with the Provencal style, as if the two terms were synonymous. In reality, the Provencal style is close to shabby chic, but also has substantial differences.
The furniture in the Provencal style is not pickled and has a greater variety of colors: natural wood meets pastel shades such as green, blue, pink, combined with the purple of lavender. Here, too, white can be the main shade, but the grain of the wood appears just below the color, in a natural way, without the aged effect typical of the shabby chic style. Furthermore, the Provencal style is also distinguished by the extensive use of wrought iron.
If you may be interested in other article on Modern Farmhouse Style – Love it or Hate it?
Do you want latest Trends straight to your inbox?
Thank you for subscribing.
Something went wrong.