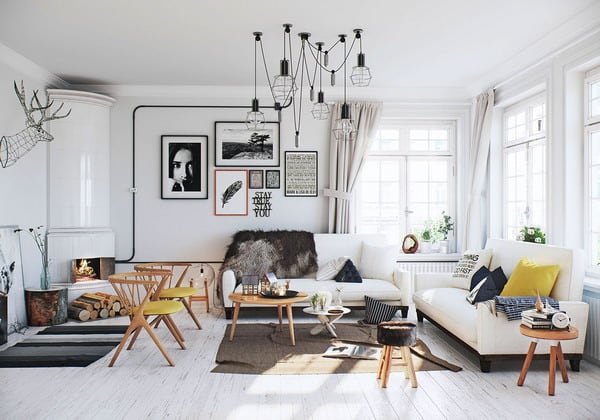 Style trends in interior design are not changing each other as fast as fashion for clothes, shoes, hairstyles or hair color. And it pleases, because everyone knows how long, laborious and expensive the repair process is. Each homeowner seeks to keep his interior as trendy as possible.
Fortunately, any new direction in interior design has been delayed in our homes for more than one year. These trends are not characterized by a seasonal rapid change, as is the case with wardrobe items. In the design of the premises, changes occur smoothly, some trends in the interior are replaced by others, gradually transforming the appearance of the housing and its atmosphere.
By deciding to use new design trends when decorating your home, you can be sure that the decoration of your interior 2021 will not go out of fashion in a year. If you approach this issue thoughtfully and use a combination of different directions, then such a design will not lose its relevance over time.
Current trends: classic or mode?
If you plan to start the repair or just think about its necessity, it will not be superfluous to familiarize yourself with the main areas in interior design. Some of the fashion trends go away in time, giving way, while others linger for a long time, undergoing partial changes and retaining their focus. What is relevant in the current season?
Traditional classic chandeliers and single lamps with shades are replaced by original lighting and decorative structures and complex compositions from several single lamps. This not only provides excellent illumination of the room in the evening, but also contributes to the creation of a peculiar architecture of space.
The furniture is becoming more functional, it has clear lines and simple geometric shapes. The absence of frills is compensated by the use of interesting materials and upholstery of the original texture and colors.
The trend is the use of elements of folk art, which can easily give any interior an original look. A piece of exoticism, which will bring sophisticated ornaments, original patterns and exquisite folk motifs, will be appropriate in almost any interior. The main thing is moderation, it is important not to overdo it with folklore details, and then the national color will become that highlight that will add charm to your interior.
The use of metal does not lose its relevance. Forging products have long taken a place in the interiors of apartments and houses. Elegant window and fireplace grills, sophisticated stair railings and balcony railings, openwork furniture and intricate decor items – these works of blacksmithing art can cause genuine admiration.
Decorating surfaces with prints is gradually becoming a thing of the past. In the interiors, monophonic walls of calm shades will prevail. They will not look boring, because in a trending surface with an interesting texture. Concrete, rough stucco or masonry are complemented by bright accents in the form of paintings of interior paintings and original modular compositions.
The color scheme of the current season involves the use of calm, warm, pastel shades that contribute to relaxation and peace. Neutral tones are appropriate in different rooms and different interior styles. They serve as the perfect backdrop for furniture and decor. The use of bright, saturated colors in the form of small accents is relevant. In this regard, the favorite will be dark green.
Materials: stylish decoration and unfading classics
Ceramic tiles can hardly be called a new trend. However, the ever-expanding assortment of this universal finishing material allows you to embody the most unusual ideas: the trend is hexagonal tiles in the form of bee honeycombs. It in itself looks very unusual both on the walls and on the floor. And if you use a flight of fancy and tiles of different shades, then you can achieve an incredible graphic effect. Terracotta clay tiles are gaining more and more popularity.
One of the favorites among the materials used for decoration and decoration of rooms, is still a natural stone. Modern interior trends are such that we can safely say: this material is unlikely to soon give way to its leading position.
"Wild" stone with its sharp edges, polished by sea waves to almost perfect pebbles, rough stone blocks with a rough surface, stone slabs polished to shine, striking with its rich texture and variety of patterns – there is room for any of these varieties of natural material in the interior .
Walls and arches, fireplaces and sinks, countertops and window sills, artistic compositions and decorative panels made of natural stone will give your home a unique and inimitable appearance.
Decor items made of this material also have no equal: coffee tables, lamp bases, ashtrays, decorative figures and candlesticks will be an adornment of any interior.
Puffs and pillows made of wool, stylized as smooth sea boulders and repeating their shape and pattern, can become a highlight of your home. These unusual interior items will harmoniously fit into the living space, deliver positive emotions to the owners of the house, surprise guests and emphasize the relevance of the next trend.
The course towards rapprochement with nature
Fashion trends in the interior again turn to the natural world, which is an inexhaustible source of inspiration and design ideas. Natural materials are a real find for decorating and decorating a room. Natural wood, cork, bamboo, bark, vine, rattan – each of these materials can organically fit into the interior, filling the home with positive energy, adding stability and confidence.
None of the modern finishing materials is able to introduce natural energy, which is fraught with natural wood, into the interior. It fills the atmosphere of the home with living warmth, comfort and coziness.
In a room with wooden finishes, furniture and decor items, there is a natural flavor and connection with nature.
Seasons and fashion trends are replacing each other, but when arranging a home, it is important to take into account not only modern trends in interior design. You should always remember that housing is intended, first of all, for a person and his comfortable living.
The interior of the house in which we live has a great influence on our emotional state, behavior and even character. The latest trends in interior design are aimed at creating a beautiful and functional home in which it is comfortable to live and work. In such a house harmony reigns, every detail is thought out to the smallest detail, and the atmosphere is filled with warmth and comfort.
IF YOU HAVE ANY QUESTIONS, LEAVE THEM IN THE COMMENTS BELOW THE ARTICLE. WE OR OUR VISITORS WILL BE HAPPY TO ANSWER THEM.
Do you want latest Trends straight to your inbox?
Thank you for subscribing.
Something went wrong.