Choosing the right bedroom for your children is a much more critical task than it seems, and it is only right to get informed to do it better. This is the room where they will spend most of their time, having fun, relaxing, and studying. It is the room in which they will grow.
There are many ways to educate and raise our children: the environment and atmosphere we build around them are among them. We can influence their way of seeing the world and approaching life, which is why the importance of the bedroom where they grow up should not be underestimated.
When it comes to choosing a children's room, there are several factors to consider, and we'll talk about them below, but what are the trends related to children's bedrooms that can inspire you in this important choice?
1. Loft bedrooms
These bedrooms are the perfect solution to make the most of all the space available, even, and above all, if you have to insert more than one bed.
Loft bedrooms for children combine comfort and fun, leaving the central spaces free for children to explore thanks to their imagination, eliminating the feeling of small and closed spaces.
Children love the sense of adventure offered by "going upstairs," and parents can use the spaces created below to set up beds or study corners.
This must always be done in extreme safety by choosing furnishings designed for this and arranging them correctly.
When outlining a loft bedroom, we take into account:
The solidity of the structure (guaranteed by certifications)
the ease with which you reach the upper floor
Proper organization of spaces
The convenience of using beds, wardrobes, and stairs
Source – Pinterest
2. Nature-themed
Nature-themed bedrooms are a great way to bring children closer to the beauties of the world that awaits them outside and respect what surrounds them.
Maritime-themed bedrooms are very trendy, with colors ranging from blue to white and yellow. The sea can convey a sense of peace and harmony, but also of adventure and discovery.
Another beautiful and very current natural theme for a bedroom is the island-style, with wallpaper or wall panels that recall palm trees, wicker or exotic accessories – such as small surfboards, plush dolphins, and flamingos – with soothing colors and lively at the same time.
Another great natural theme is the mountain style, with walls reminiscent of falling snow in shades of white and gray ice. These can be paired with many objects that recall the passion for skiing, such as snowboards and themed soft toys like cubs and small white bears.
A bedroom with great charm thanks to the magic of the snow, capable of stimulating a sense of adventure and bringing children closer to respect and love for nature.
Source – Pinterest
3. Modular bedrooms
Among the trends in children's bedrooms, modular bedrooms still maintain their large pool of parent-worshipers. This is because they allow you to combine the furnishing elements in the space available without resorting to more expensive custom-made furniture.
Modular bedrooms are rooms where you decide upstream which elements to "fit" to obtain compositions suitable for angles and lengths. Walk-in wardrobes, bridge wardrobes, or bookcases are modular in different configurations combined to obtain effective space management.
The result will be a completely functional and safe bedroom, in which only the most necessary elements will be inserted.
And above all, it will be a unique bedroom, because it will be personalized in all its details. To conclude the fun creation of the bedroom, you can also play with colors and finishes to make it even more unique and personal.
The advantages of modular bedrooms are many:
Functionality and flexibility
They are fully customizable
Cheaper than solutions with custom furniture
Source: Pinterest
4. Children's bedrooms trends with ecological materials – "green style."
Sensitivity to the environment and climate change makes it increasingly important to make responsible choices. Children's bedrooms, made in the so-called "green style", use ecological and eco-compatible materials and bring children closer to nature through the rational use of its resources.
Wood is preferred to plastic, but only if it comes strictly from 100% recycled wood and sustainably managed forests with FSC certification.
In such a room, you should use parquet for the floors. Recycled wood or ecological panel, assembled by reducing the glues that emit formaldehyde, are better for the furnishings.
The paints must also be non-toxic and single-component water-based to avoid solvents and possible pollutants present in commercial paints and enamels.
Pay close attention also to lights and electromagnetic pollution: use exclusively LED or energy-saving bulbs, and no televisions, computers, or other appliances should be in the room.
Source: Pinterest
5. Bedrooms of the right color, no longer just pink or blue!
No more just pink for girls and blue for boys, these old rules are now outdated!
The new children's bedrooms trends see the choice of neutral colors, more suitable for children's growth and their phases of change.
Often there is a tendency to use many colors, even bright ones, which are not recommended in the bedroom because they do not favor rest. Instead, colors with less intense tones or fewer contrasts are preferable, pastel shades that do not tire children's sight.
We move towards the search for the right mix between cheerfulness and rigor: if you consider neutral colors "too neutral", you can resort to green, orange or yellow, colors that are not masculine or feminine by definition, but all colors are widely used.
And remember that not only the walls give color, but also the decorations you choose to use! You can provide free rein to your imagination and that of the children by applying wallpaper or stickers. You can then go and remove them if they, once they grow up and are a little older, no longer like them.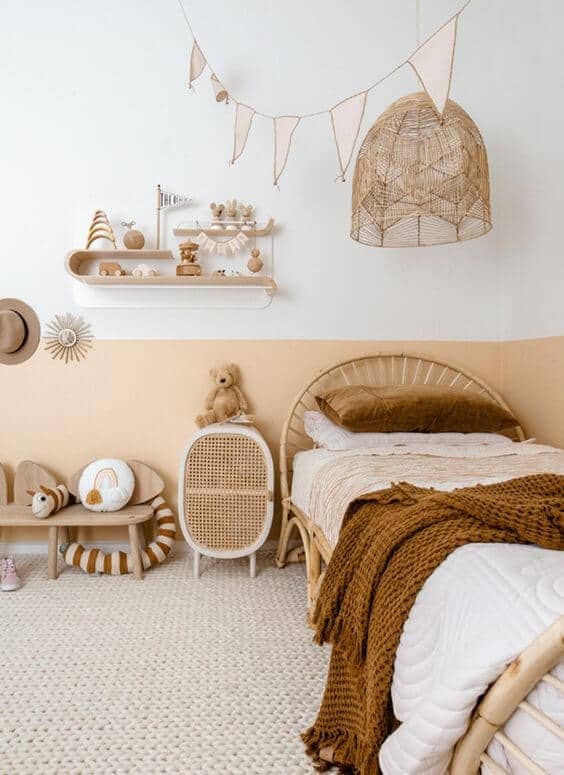 Source: Pinterest
6. Educational bedrooms
Why not start stimulating the intellect and curiosity of children starting from what they find in their bedroom?
Maria Montessori firmly believed that everything should be functional to make them grow independently in the ideal environment for children. Children must be able to move freely among child-sized furnishings; they must interact, play and grow with what they find in the bedroom: the furnishing elements of the room are for them the first stimulus and certainly the best.
This thought is still valid today and is very popular in the design of bedrooms. The furniture is designed to be used independently and respect the proportions of the child. This guarantees freedom and movement, but above all, it promotes independence and personal growth, also stimulating the need to take care of one's environment and keep it clean and tidy.
An example of a piece of furniture of this type is the low bed (20-25 centimeters maximum from the ground), which eliminates the dependence on the parent and stimulates autonomy, without this creating safety problems.
Other suggestions are using open and visible wardrobes that stimulate children and always allow them to find their clothes in sight. Low bookcases and shelves are useful for games and for storing books from the front. Having all the covers arranged in front allows children to recognize their books even when they have not learned to read.
Games should all be close at hand; they should simulate everyday objects as much as possible and be collected in containers that encourage children to keep them in order.
In addition to games, you can use alternative furnishing elements to provide the right visual stimuli: for example, you can use adhesive panels on the walls with maps or letters of the alphabet, or you can hang planets on the ceiling and use a globe as a night light.
Source – Pinterest
7. Bridge bedrooms
As with the loft children's bedrooms trends, bridge bedrooms are ideal for managing small spaces where there is no space for classic bedrooms.
In bridge bedrooms, the bed (or sofa bed) has a part of the wardrobe above it. It is a space-saving, functional, and practical solution.
The wardrobe can be a corner or linear bridge, depending on the space available. Under it, you can also insert a desk if the length of the bridge allows.
Suppose you do not have the space to insert a bookcase. In that case, solutions with wardrobes can be adopted in bridge bedrooms, which half perform this function. The half-bookcase is therefore equipped with practical and aesthetically functional shelves, and you can decide whether to leave them exposed or not.
Nowadays, there are also bridge bedrooms with retractable desks inserted into the bed frame.
Source: Pinterest
8. Creative bedrooms for alternative children!
Among the new trends in children's bedrooms, there are more and more unconventional solutions, which surprise both children and friends (and their parents) who visit them every day.
We are talking about ideas such as a completely white wall that has been painted with washable paint where the child can draw at will: it is undoubtedly a great way to give children a space in which to "express themselves" without affecting the newly painted walls.
The same result can also be achieved with blackboard effect paints, where it is possible to write and draw with colored chalks.
You can be creative and original in many different ways; for example, in a small space where the bed can be reached with a ladder, you can make sure that the steps are also a bookcase!
Or, instead of hanging the classic and usual spotlight bulbs on the ceiling, you can arrange them by attaching them as if they were flowers to a dry tree, to be placed wherever you want in the bedroom.
If you have large spaces available, why not think of a swing well fixed to the ceiling, an element that will surely amaze your children and those who come to play with them.
Do you have a boy and a girl? You can color and decorate the two halves of the bedroom differently. In this way, you will create a beautiful play of colors and give a greater identity to both.
Source: Pinterest
9. Cartoon or superhero themed
Cartoons and superheroes have always been in trend, even when it comes to furniture.
To get closer to the dreams of your little ones, who are the real superheroes of today and tomorrow, you can furnish their bedroom to give life to their super-secret refuge, their bat-cave, or their city to protect. Without excesses, of course!
The most straightforward idea for inserting superheroes in the decor are paintings and posters on the walls with small frames or large prints, including reproductions of comic book covers or movie posters featuring them as protagonists.
Or you can use stickers depicting the panorama of a big city, attach them to the walls and complete the atmosphere with themed hangers. If you have enough space, give your little ones a mini car from the Cars movie or a mini Batmobile, it will always make them feel like the protagonists of their favorite adventures.
A modular bookcase will represent the tortuous path to be taken to become heroes. Furthermore, it will leave soft toys and gadgets in plain sight.
Do you like DIY? Glue the figure of a flying Superman under a shelf. It will make it look like he is carrying it on his shoulders!
Source: Pinterest
So, how to choose the right children's bedroom trends?
As we have seen, thanks to these latest trends, there are many ways in which you can furnish your children's bedroom.
The factors to consider can be many:
One or two beds
The space available
The colors
The right mix of rigor and cheerfulness
Putting appliances in the room or not
Ecological and non-ecological materials
The balance between concentration and fun
These are all assessments to be made with three primary objectives in mind:
Optimize spaces and safety;
Give free rein to the imagination;
Provide the right stimuli for children.
The bedroom choice is an important task and not to be underestimated because it is an environment where children spend a good part of their day.
The right bedroom brings them closer to the world around them and their responsibilities, helps them become familiar with everyday objects, guides them towards a sense of order and cleanliness, stimulates their minds, and leads them to express who they are.
Do you want latest Trends straight to your inbox?
Thank you for subscribing.
Something went wrong.