Curtains make a room. While so much emphasis is placed on color schemes, if the curtain colors should match wall or furniture colors, or if the colors should contrast or complement one another, people tend to forget that the choice of fabric also matters. Different fabrics have various effects that they create. Therefore, in this article, I'll be explaining several concepts to consider before buying curtain fabrics.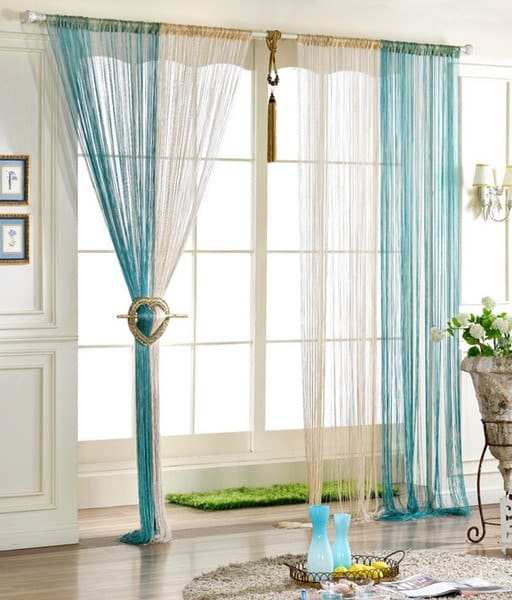 Choosing Fabric Types
There are numerous fabric options available for curtains and it can be a tough decision choosing between silk, cotton, linen, and many others. So here's a guide on the advantages of each type of fabric to help narrow your decision.
Lace Curtains
Lace curtains are a favorite amongst many homeowners for bedrooms and the living room. It is translucent and provides a minimal amount of privacy. This is why it is often layered with other thicker curtain fabrics. FINECITY lace curtains allow light to flow into your home in such a manner that it creates an airy and soft effect. In terms of caring for these curtains, I'll advise reading your manufacturer's instructions to know if it's either dry-cleaned only or machine washable.
Silk Curtains
Silk, of course, screams luxury. If that's the look you're going for then HOMEIDEAS silk curtain is the obvious choice. However, you should know that they easily get damaged when exposed to sunlight. This is the reason why it is often incorporated with roller blinds. The blinds will block out sunlight while the curtains provide an aesthetic effect.
Polyester Curtains
You should consider getting polyester curtains if you love silk curtains but find the sun damage to be costly. Polyester curtains give off the same luxurious feel that you get from silk curtains as they mimic their look. However, not only are they cheaper but they last longer.
Cotton Curtains
Cotton curtains are the most common curtains you'll find on the market. This is because they are quite versatile in their function as they fit both modern and traditional decor aesthetics. They are light and allow the right amount of light to filter into your home. However, their major shortcoming is that they absorb smells easily so they have to be washed very often. Maison d'Hermine is a quality choice.
Acrylic Curtains
No, we aren't talking about the paint rather we're talking about the curtains. These curtains are very light, are also hypoallergic, and drape prettily. So you can forget about mold growth or possible allergic reactions.
Linen Curtains
Second to cotton curtains, these are the next popular variety. They are natural to touch and drape wonderfully. What's more, is that they are lightweight and create a relaxing atmosphere with how they filter light into your space. However, they wrinkle easily.
Thread Count is Important
The thread count of your curtain fabric determines how durable it is. The higher the thread count, the more durable it is. Before buying curtains, do check the tags for this easily overlooked detail.
Sheer Curtains or Blackout Curtains
Before buying curtains, you have to consider the look you want to achieve. You have to consider whether you want sheer curtains or you want blackout curtains. If you want sheer curtains, fabrics such as voile, lace, nylon net, etc. are the best choice. For blackout curtains, you'll need denser fabrics.
In summary, there are three primary factors to consider when buying curtain fabric. They are, the degree of privacy they provide (sheer or blackout), the amount of time they'll last you (thread count), the quality of the fabric (the fabric type). As long as you take these into consideration, you'll be selecting the perfect curtain material in no time.
Do you want latest Trends straight to your inbox?
Thank you for subscribing.
Something went wrong.