The living room is perhaps the most entertaining room in your house as it'll be used to welcome guests and relax with other family members. Hence, decorating it may get somewhat complicated, but I've got good news for you. Decorating your living room does not require dramatic changes to make it more relaxing and inviting. Instead, you only need to change your drapes. We all know how incomplete your space will look without window treatments and coverings such as curtains, shades, blinds, and drapes. That's why in this article, I'll be discussing several tips that'll guide you as you choose drapes for your living room.
Length Matters!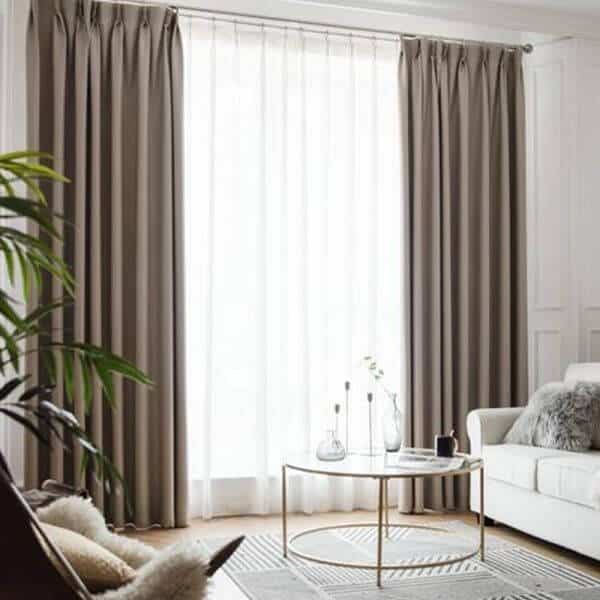 Source : Pinterest
Typically, draperies are often so long that they go from the top of the windows to the floor, but this can be modified if it doesn't suit your taste. Of course, you might think that getting some drapes that are wider and longer than your windows themselves is a great choice when blocking out the sun but instead, all it does is make your living room appear smaller than it is.
When choosing length, you can opt for standard length curtains such as the 84 in., 96 in., or the 108 in. The shortest length is ideal for living rooms with low ceilings. The golden rule for draperies is to always go longer rather than have an awkwardly short curtain as there'll be no going back from that.
If none of these standard options work for your living room space, you can always have them custom-tailored by your local tailor. Simply buy long enough drapes and give them to your tailor to hem to your desired length. When measuring for the width of your curtains, just go 10 in. wider on both sides of the window. For length measurements, measure from the ground up adding between 12 in. and 22 in. above the window to make space for the curtain rods, especially if you've got higher ceilings.
Color and Texture must Come into Play
Source : Pinterest 
To achieve a very cohesive look in your living room, you have to consider both the color and texture of your draperies. For instance, tying the color and texture of your drapes with a piece of artwork, or throw pillows, or a piece of furniture creates an elegant design in your space. Also when choosing the color and texture of the drapes, asides from the aesthetic it'll provide, we also have to consider its function. How much light do you want to be let into your living room? Do you want coziness and privacy, or fun and bright? Thick and darker colored drapes are perfect for creating a sophisticated look and cozy atmosphere while brighter colored and light drapes are perfect for entertaining. Whichever option you go for, let's not forget that you only have to open the drapes to let more light in.
The Wash Routine
Your drape fabrics can either be washing machine friendly or dry clean only. Washing machine-friendly drapes will require you to wash on a short and gentle cycle before tumble drying while dry clean only drapes wash them by hand before spreading to dry. Either way, your choice should be dependent on that which will save you time and money.
Know Your Drapes
Source : Pinterest
When choosing the right drapes for your living room, obviously you should know the types that are available as they'll help narrow your decision in terms of functionality before you go about thinking of its color and texture. There are predominantly five styles that are available on the market. They include the Euro pleat drapes, Pinch pleat drapes, Grommet drapes, Ripple fold drapes, and the inverted pleat drapes.
Euro pleat drapes are the most available options and they are often used for classic interiors. Pinch pleat drapes are more traditional and tailored. They open and close easily to offer you light control and privacy. Grommet drapes are often used to highlight the windows in a room. Ripple fold drapes look fuller than the others and use quite a lot of fabric. Finally, Inverted pleat drapes are unique and often pique the interest of guests.
Consider Layering
If you're considering creating multiple dimensions to your living room space, layering is all you need. To do this, you'll need sheer linen curtains and/or linen roman shades. The sheer curtains soften up your living room while the shades offer more light control and privacy.
Privacy
Finally, you should note that using the right lining choice controls how much privacy you'll get from neighbors and other prying eyes. The degree of privacy you get increases in the following order; unlined drapes, drapes with privacy lining, and blackout drapes.
Choosing the right drapes for your living room should be fun and easy with these tips.
Do you want latest Trends straight to your inbox?
Thank you for subscribing.
Something went wrong.