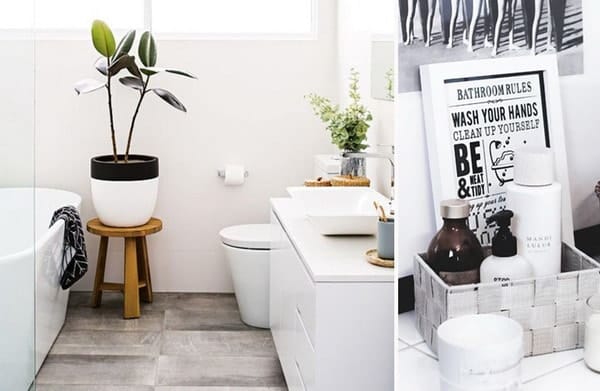 Do you think small bathrooms can't be trendy? On the contrary ! And we show you how to make the most of this important room and how to optimize its layout with a few simple tips!
1. A wooden ladder as a towel holder
Has your old ladder worn out? Well now is the time to recycle it! After a clean blow and placed against a wall, it will have the greatest effect! A good idea to gain a few square meters while staying in a Shabby Chic style that we love! A diverted object is always useful for the development of a small bathroom, there is more than to deposit your towels. For those who prefer the more classic look, some brands sell "ladder furniture" that can accommodate towels but also decorative or other items.
2. A flashy shower curtain
With an elegant shower curtain, you can give your mini bathroom a new look in seconds. Perfect for a space with a boho look, models with oriental-inspired patterns or tropical prints are very fashionable! For the most minimalist, why not choose a graphic shower curtain with colorful tones to enhance a slightly too uniform room? Finally, little heart for the "froufrou" model who will speak to those with a girly side. Clean and chic, a pretty shower curtain is perfect for dressing up a small room!
3. Special jars for your cleansing cottons
Don't let your cotton discs, cotton swabs and other plastic bags make your space ugly! Create dedicated spaces by opting for jars and other objects that allow you to organize everything in a modern and neat way. You can also recycle old jars of jam! And then, it is ideal for arranging small spaces.
4. Choose light tones
The more light and bright colors you put in your bathroom, the bigger it will look! Light shades reflect light and give more space, while darker colors absorb light and reduce the size of the room. White, cream and gray are your best allies for small bathrooms. If you want a little more color, use them in touches.
5. A very designer toilet paper holder
Everything, really everything in your little bathroom can now turn out to be extraordinary. So why not the toilet roll holder? Perfect for saving space while staying stylish!
6. A large mirror with a more trendy frame
The mirrors reflect the light and that is exactly what you need for your small bathroom! Especially in windowless bathrooms, every opportunity to provide more light is important.
Bet on a mirror with a more trendy frame. Brass, wooden, square, round or diamond-shaped … the possibilities are numerous. And why not fall for an accumulation of mirrors? Right on trend, you are sure to dress your bathroom elegantly.
7. Roll up your towels!
Put your rolled towels in a basket instead of just placing them on the radiator or towel rack. This brings a touch of originality and a spa atmosphere to the room! A perfect idea to pimp your bathroom easily.
8. Accessories that will amaze you!
Eyeliners, eye shadows, lipsticks, makeup brushes, your makeup and accessories collection takes on gigantic proportions as in many bathrooms. With elegant glasses, bowls or boxes, put a little order in your bathroom. Other everyday objects can also become very stylish! Particularly trendy: metallic and coppery pieces.
9. A bath mat that throws away
With a bath mat, you will not only bring comfort to your bathroom, but also a lot of style. Trendy rugs are proliferating on the shelves of major brands such as H&M, Zara Home or Urban Outfitters, for example. Perfect for a room in a bohemian spirit: the patterned bath mat! Even at the foot of the washing machine, a simple carpet will have the greatest effect.
10. Bet everything on one wall!
In a small bathroom, you may be limited enough to try new things in terms of decor. In this case, we advise you to focus on a wall! You could, for example, paint it more conspicuously and colorfully or make it refined with cement tiles or mosaic.
11. Messages to convey good humor
Sayings and quotes on the wall, on the laundry bag or even the shower curtain can contribute to good humor and this in the morning! You can choose them funny or inspiring, the opportunity to recharge positive waves even in full preparation.
12. Focus on plants
There is nothing more beautiful than a bouquet of flowers in a bathroom: fresh and sweet fragrances and pretty colors that make you happy! Don't want to change the flowers all the time? No problem ! A good alternative: indoor plants . A small jungle atmosphere will reign in your bathroom and will bring a hyper sharp decoration touch. There are many varieties of plants that will delight in this humid room.
13. A shelf for your products
So easy to find and so nice to watch! You will find many to attach to the wall or to ask. The perfect showcase for your skincare and makeup products. And a good idea for a tidy bathroom.
14. A tray to cover the bathtub
A bath tray serves as a shelf for toiletries, books and maybe even your small glass of wine when you relax in the water. But it becomes even more elegant with a candle or a small plant on it …
15. An invisible storage space with self-adhesive mini-containers
When the small cabinet behind the mirror is full, simply attach self-adhesive mini-containers to the inside of the doors to store the remaining items! Practical, inexpensive and ideal for saving space.
16. Hanging towels
For those who do not have room in drawers or other floor cabinets, hang the towels. Cute hooks or home made , everything is possible.
17. Shampoos, shower gels & co. in pretty containers
Do your bottles of shampoo build up and don't look pretty in your shower area? Practice discretion and put them in decorative containers – available at Zara Home, for example. But beware ! Glass in the shower is not a good idea … especially when you wash your hair. There are beautiful plastic containers too!
18. Shelves! Shelves! Shelves!
On the door, above the toilet, under the mirror cabinet … In the bathroom, they can be everywhere! If they are well organized and kept clean, they are a real miraculous weapon for saving space. In addition, your walls are much prettier! A good visual tip to make a room larger is an open floor.
19. A transparent shower
Do you like taking long baths? However the shower is the best solution if you want to arrange a small bathroom. Classic shower stalls seem bulky and take up space. The best for small spaces: the walk-in shower or walk-in shower with glass walls or glass panes. This will make the room look much larger!
20. A little wood to warm the room
You can transform a small bathroom into a comfortable place if you opt for natural materials. Wood adds warmth and character, balancing the cool white of tiles and walls.
Do you want latest Trends straight to your inbox?
Thank you for subscribing.
Something went wrong.