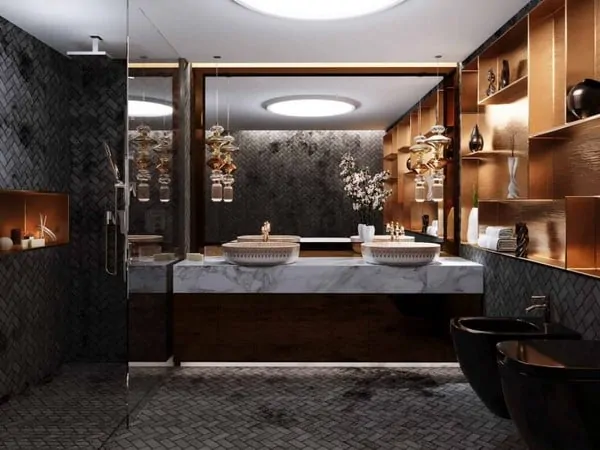 In today's hectic world, we are looking for a refuge where we can relax from everyday stress. Modern bathrooms have become an oasis of calm and serenity, where we can relax and recharge our batteries. Restrained, simple, focused on the essentials and yet luxurious: This is how the bathroom will present itself in 2021. A wide range of tiles and furniture can be found in stores so that everyone can design their dream bathroom according to their own wishes and ideas. We give you an overview of the latest trends in bathroom design 2021 and explain how you can implement them in your own four walls.
Yes, even small bathrooms, if they are designed according to the latest trends, can make it big. Today, modern bathrooms are designed puristically in gray, black and white. High-quality large-format tiles made of granite and marble bring a touch of luxury into the room. The popular wall design without tiles is minimalistic, discreetly taking a back seat and leaving the stage free for striking furniture and wellness equipment. A walk-in shower with a glass partition looks particularly classy and can be realized even in a limited space. The space-saving corner bathtub also finds space in the modern bathing oasis and a sauna transforms the room into a private wellness area. Subtle details made of wood loosen up the modern living image and add a cozy touch.
Modern bathrooms today: small but nice
Small but nice : Modern small bathrooms are anything but boring. Although the puristic trend continues, the interior designers are trying to embellish the room with subtle accents. With exotic pendant lights, accessories in gold and indirect lighting, there is a new, exciting look in the bathroom. Because a small room has at least one big advantage: you need less tiles and smaller vanities, mirrors and glass partitions. You can invest the money saved in high-quality materials. Our tip: Don't be put off by dark colors, because if used correctly, they can make a difference.
Get the best out of the room by cleverly and space-savingly distributing the bathroom furniture in the room. It is best to create a sketch and mark the location of the water connections on it. Get advice from a specialist based on the sketch. You can also use an online room planner to visualize various design ideas and find the best position for furniture and equipment. The next step is to find the right tiles. It is best to lay the floor and walls with large-format high-gloss tiles. A dark floor and light wallsmake the room appear more spacious. Put on a large mirror. It will reflect the light and make even a mini bathroom look much more spacious. In small bathrooms, there is usually hardly any free space for a bathtub, but you can effectively showcase the shower. Walk-in showers blend harmoniously into modern bathrooms. A wall made of clear glass can effectively separate the shower zone and at the same time create a seamless transition between the different areas.
The design principles for small modern bathrooms at a glance:
Well thought-out spatial planning plays a crucial role in achieving a successful end result.
Large-format, seamlessly laid tiles. Optionally, you can even do without the wall tiles and instead paint, wallpaper or plaster the walls.
Walk-in shower with clear glass partition.
Wall cabinets with clear lines and handleless fronts give the room a luxurious touch and at the same time take up less space than the classic base cabinet.
Small bathrooms must be well lit.
Modern bathrooms are puristic beauties in gray, black and white
Colors play a secondary role in the puristic bathrooms. Red, blue or light green are a thing of the past. Gray, black and white form a simple ensemble that gives the bathroom depth and brings the high-quality surfaces and the designer bathroom furniture to better advantage. A dark gray wall illuminates the white ceramic bathtub and the sink. If the floor is laid with high-gloss tiles and the walls with tiles with a matt finish, there is a particularly attractive contrast. Stainless steel fittings with a minimalist design effectively round off the equipment.
Modern bathrooms: granite brings a touch of luxury into the room
Granite is making a real comeback and is widely used in the bathroom. The natural stone is very popular for its high resilience and is considered a robust and easy-care alternative to marble. Granite tiles are non-slip and can be laid with or without joints. Not only are tiles made of granite, granite vanities also cut a fine figure in modern bathrooms. The material fascinates with an appealing grain and can be combined with wood, copper, gold, concrete or stainless steel. A real all-rounder that is one of the trends for 2021.
Modern bathrooms without tiles: when bathroom furniture plays the main role
Modern bathrooms without tiles are enjoying growing popularity. More and more building owners are opting for a plank floor and wall color and against tiles. In the past, wood was considered unsuitable for use in wet areas. In the meantime, even bathtubs are made from it. With good care and with the right treatment, even daily contact with water cannot damage the natural material. The bathroom without tiles looks more open, is easy to maintain and can be harmoniously integrated into the modern living picture. It is the perfect variant for modern bathrooms in new buildings, where the boundary between the different rooms melts. So the personal bathing oasis becomes more homely.
There are several alternatives to bathroom wall tiles. In modern bathroom designs, the walls are usually painted with a water-repellent paint, while wet areas such as the shower cubicle and bathtub are protected from water by glass wall panels. Synthetic resin plaster is also ideal as an alternative to wall tiles in the shower zone. The material adheres well to different substrates, has great elasticity and is considered heat-resistant and waterproof. The walls in the bathroom, which rarely come into contact with water, can be painted in a neutral color or even wallpapered. In the meantime you can find washable non-woven wallpapers that are considered particularly water-resistant.
Modern bathrooms with sloping ceilings: effective design ideas
It is not easy to design rooms with sloping ceilings. While a comfortable lounge or dining group is usually arranged in the living area underneath and a custom-made wardrobe can be found in the niche in the bedroom, bathrooms are often a great challenge. Because most zones in wet rooms require the full standing height, which in Germany is 1.9 meters is. Bathtubs are fairly undemanding when it comes to room height; they can be easily installed under a sloping roof. Even sauna systems and benches do not require the full height of the room and can be accommodated under the slope.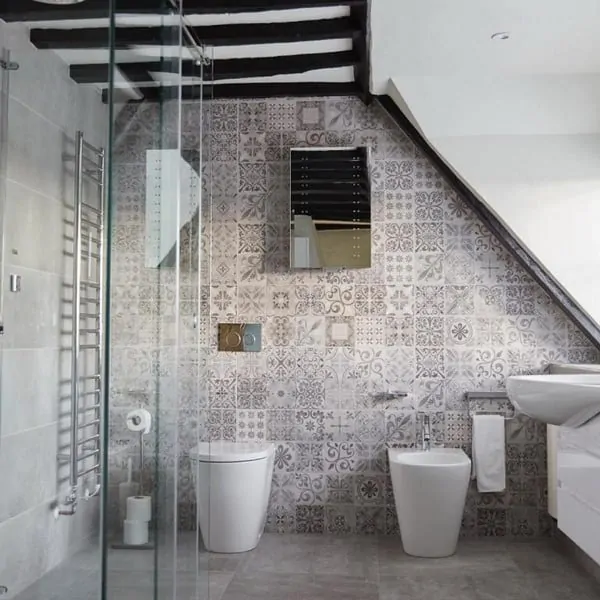 However, the shower zone places the highest demands on room height – you need at least 2.50 meter room height to stand comfortably in the shower cabin. For bathrooms with a sloping roof, shower trays that are installed flush with the surface are ideal. This way, you can gain more free space and stretch your hands when showering. Toilets also require a standing height in order to be used comfortably. If there is no space for the toilet in the bathroom with a sloping roof, you can move it to another room.
Design modern bathrooms comfortably: new wood or old wood
Wood is increasingly used in modern bathrooms. Its attractive grain automatically attracts attention and its warm color creates a cozy atmosphere. If well sealed, the natural material is considered waterproof and can last for many years in the wet area. However, it is important that you regularly ventilate the room and wipe off any water splashes from the washbasin and floorboards.
A wooden washstand on which a ceramic washbasin is mounted presents itself as timelessly elegant. Accessories in gold or copper, as well as modern bathroom fittings and puristic mirrors blend harmoniously into the puristic bathroom. Over time, a patina forms on wood, which even better emphasizes the special charm of the natural material. Slight discoloration and traces of usage make the old wood furniture attractive and bring a Mediterranean feeling to your own four walls.
Modern bathrooms with shower: this is how you can recharge your batteries in the morning
In small bathrooms, the shower is an alternative to the bathtub. The shower zone can be designed according to personal needs. For example, you can mount the shower tray with a base and visually separate the shower zone from the rest of the bathroom. However, bathrooms with a shower tray embedded in the floor are particularly popular. Splash protection also plays an important role in comfort in a shower room. Folding doors, sliding doors and swing doors offer space-saving solutions with limited space. The shower is visually separated from the rest of the bathroom by tiles in a contrasting color.
Modern bathrooms with corner bathtubs and free-standing bathtubs: wellness oasis in your own four walls
The freestanding bathtub is considered a real classic. In minimalist bathrooms in particular, an oval bathtub ensures a measured change in style and loosens up the geometric austerity of the rectangular shower cubicle and the puristic washstand. Together with a wooden side table, it forms an attractive ensemble and invites you to relax after a long day at work. Even if the freestanding bathtub has so many advantages, you should definitely not overlook one major disadvantage: the care. Bathtubs are easy to care for, have a dirt-repellent surface and can be cleaned quickly. But the area around the bathtub is usually difficult to reach and can only be cleaned with difficulty. Mold can form there or dirt can accumulate.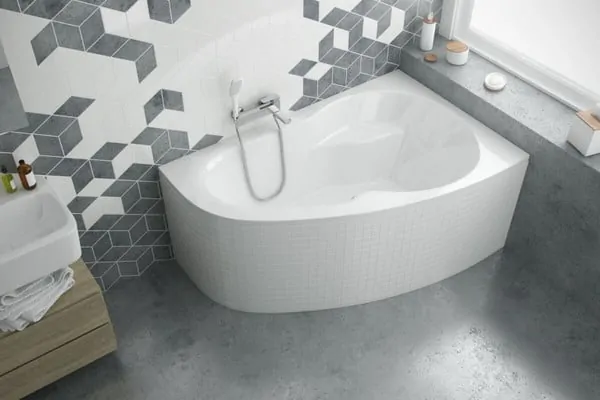 That is why a corner bath is always preferred. It takes up less space and the area around the bathtub can be cleaned easily. In addition, the corner bathtub can be covered with mosaic tiles and thus set accents in the room. The design is a practical choice for everyone who has large windows in the bathroom and who wants to enjoy the beautiful view. A corner bath does not necessarily have to be installed in the corner. In larger bathrooms, for example, it can be mounted on a half-height tiled wall. Whether puristically chic and completely in white or modern in anthracite gray: the corner bath is an all-round talent that can be staged in a variety of ways.
Modern bathrooms with sauna: pure relaxation
Modern bathrooms offer a wellness ambience. A sauna is therefore part of the basic equipment for more and more building owners. The sauna area is designed similar to a shower cabin and defined as a separate area. The outside walls of the sauna are made of clear real glass, the interior – clad in wood. It fits harmoniously into the overall picture and gives the puristic room an unmistakable feel-good character.
Modern bathrooms are presented in a neutral color palette and with minimalist bathroom furniture and appear simple and reserved at first glance. But on closer inspection, the bathroom turns out to be a real oasis of wellbeing, as a personal refuge where we can relax from the hectic pace of everyday life. In terms of equipment, modern bathrooms have a lot to offer. We summarize the most important trends for you again: gray, black and white form the trendy color ensemble for the contemporary bathroom. Accessories in gold, copper and wooden bathroom furniture add variety. Granite is the trend material for 2021: the natural stone adorns walls, vanities and even bathtubs. When it comes to flooring and wall design, more and more people are choosing a bathroom without tiles. Instead, the walls are plastered, painted or wallpapered. A walk-in shower, corner bath and sauna complete the wellness program.
Do you want latest Trends straight to your inbox?
Thank you for subscribing.
Something went wrong.