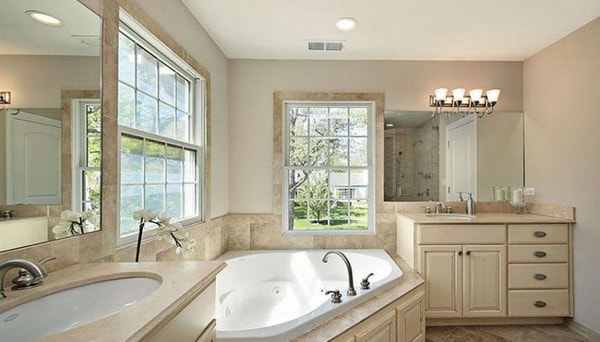 A bathroom is a room in which we, of course, spend less time than in a kitchen or bedroom, but it is on its design that our mood and well-being largely depend, because here we carry out hygiene procedures, take care of our body and face, we are energized before the beginning of a new day and relax after returning from work.
It is natural that we make high demands on the arrangement of the bathroom – it must be functional, comfortable, aesthetically pleasing, and the materials must be reliable, resistant to moisture and temperature extremes. Fortunately, modern and practical trends fully meet these expectations, and we have prepared for you a review that will tell you what the 2020-2021 bathroom trends should be like.
Current bathroom trends 2021
Starting repairs, you should pay attention to fresh ideas in interior design. In 2020-2021, such chips will be bold color schemes, original textures, eco-friendly materials, conciseness and functionality.
A variety of styles are in fashion, ranging from classics to bold futurism and a democratic loft style, but at the same time, the style of the bathroom should correspond to the concept of the apartment as a whole.
An interesting approach is to make the bathroom a part of the common space, especially when it comes to the layout of a studio or a loft, or, if there is such an opportunity, to let in more light into it by making a window opening.
Regardless of whether there is a window in the bathroom or not, it should not be dark, so there should be several light sources.
Please note that now there is a clear tendency to combine the toilet and the bathroom – separate bathrooms are replaced by combined ones, since they provide more free space and design variations.
Choosing materials for the bathroom
Choosing the right materials is the key to a successful repair. Since naturalness is one of the main trends of the year as a whole, in addition to the usual ceramic tiles, which are still relevant, it is worth using natural stone, for example, marble, glass, wood, metal, and even concrete.
Tile is the traditional solution for the bathroom. It is distinguished by practicality, diversity, and a relatively affordable price.
In 2020-2021, instead of large rectangular elements, small mosaic details come into fashion, which look especially profitable in small rooms. Colored mosaics are combined with monophonic tiles of a neutral color.
If you give preference to complex geometric shapes, for example, hexagonal tiles, then show restraint in colors, otherwise you risk getting a tasteless colorful mix.
The bathroom will look really stylish, in which tiles of different textures will be combined – a duet of matte and glossy surfaces will be a great design find.
Another original option – volumetric areas made using ceramic 3-D fragments.
Wood at first glance does not seem to be the most suitable material for decorating a bathroom, but in fact, modern impregnations make it moisture-proof and wear-resistant.
Note! The use of wood in the decoration of the bathroom makes it cozier, warmer, and perfectly complies with the requirements of environmental friendliness. The tree looks most organically with white ceramics and the same snow-white tiles, but we do not recommend choosing a tree as the only material – get a kind of village bath.
The duet of wood and marble is the choice of people with a refined taste, giving the interior a touch of noble luxury.
Concrete is the material that fans of fashionable minimalism will choose, especially for the interior in the loft style or variations on the Scandinavian theme. Deliberate asceticism gives the room an originality and unique charm.
Interestingly, not only walls can be concrete, but also a sink, shelves, or even the bath itself. An excellent pair for concrete will be glass, both mirrored and frosted. And the real highlight will be taps and plumbing in black.
Furniture trends for a modern bathroom – functionality at the head
Furniture in a modern bathroom should not overload the space, but at the same time must cope with the functions assigned to it.
Traditionally, cabinets or hanging cabinets are used in the bathroom for storing cosmetics, hygiene items, towels and other things. Designers recommend making them extremely minimalistic.
The most advantageous option is one multifunctional closet that can accommodate everything from household chemicals to bathrobes. Some designers offer to disguise such a cabinet by making it in the form of a protrusion and decorating it with the same materials as the walls.
A great solution is the hanging cabinet under the sink. This is a fashion trend that will appeal to many – the cabinets do not seem massive, they look stylish, but differ in sufficient capacity.
You can equip the bathroom with light open shelves or whatnot – such structures will seem airy, visually increasing the space.
Bathroom lighting trends 2021
There should be a lot of light in the bathroom. Even if you are very lucky and you have a spacious bathroom with natural light, you still need a few additional light sources. If you have a small standard bathroom, then here you can not do without thoughtful multi-tiered lighting.
The main light source is best placed on the ceiling. It can be several built-in lamps, a diode strip, a ceiling lamp. Additional lights will help to delimit the space, highlight the most significant areas, for example, the area near the mirror. For this purpose, wall sconces, floor lamps, and other options are used, depending on the design style.
Do not forget that the lamps carry a decorative load and help create a cozy atmosphere in the bathroom.
Bath accessories trends
Most often, accessories in the bathroom in the bathroom have a dual function – practical and decorative. A small area does not allow overloading the space, so every detail, from towels to the stand for toothbrushes, must be carefully thought out so that all these things are combined with each other and the style of the bathroom as a whole.
If the bathroom is finished in a restrained manner, then accessories may well take on the role of stylish accents – a bright original soap dish, wall hooks, cups, a soap dispenser can greatly enliven the picture, become a kind of highlight of the interior.
Pay attention to the faucets of unusual shape and color – black taps, curved shower stands and other design features will make your bathroom special.
In 2020-2021, there is a tendency to add a bit of pure decorative art to the interior of the bathroom. If the size of the room allows, then why not decorate it with a picture or a wall panel? This technique will help create a relaxing aesthetic atmosphere.
Modern styles for the design of the bathroom
The choice of style in which you will decorate your bathroom, first of all, of course, depends on your personal preferences. The most relevant today are the minimalist Scandinavian direction, a bold industrial style, nice country and provence, but there are no strict restrictions – the main thing is that the bathroom style does not dissonance with the apartment as a whole and delight you and your family.
We suggest you pay attention to some of the most striking options for arranging a bathroom.
High-tech – as a rule, this is the choice of young, active, confidently looking into the future of people. The main emphasis in such a bathroom is on functionality.
Simple, easy-to-care plumbing can have quite unusual shapes. Chrome accessories and mirrors give the room some rigor. Particular attention should be paid to lighting – LED lamps will help create the necessary atmosphere.
As for the color scheme, the favorites are white and gray, and when choosing materials you can focus on glass, ceramics, plastic.
So that the bathroom in the futuristic style does not look too strict and boring, you can place indoor plants in it – they will make the atmosphere softer and more comfortable, and will contribute to a pleasant microclimate.
Loft, industrial style – one of the most popular destinations in the world. Deliberate asceticism, brutality, and negligence in processing materials are inherent in him.
Now in such a bathroom you can safely bet on concrete. Combining it with steel, wood and ceramic elements can achieve amazing results.
Concrete masonry, artificially aged board will perfectly fit into the general concept. Instead of a wooden board in the loft, you can safely use imitation of porcelain stoneware – this option will be easier to care for.
It should be remembered! To ensure that the industrial-style bathroom does not look repulsively sloppy, purchase high-quality original plumbing – these should be clearly defined silhouettes, but with a "twist", for example, a transparent sink, a black ceramic or shiny steel streamlined bathtub, a hanging toilet, and a high-tech shower a cabin.
Provence – this cute option will surely appeal to romantic natures. It combines cosiness, environmental friendliness, and retro atmosphere.
In such a room, an aged board or its analogues, ceramic tiles with a pattern, a simple white ceiling and light walls will be appropriate.
Bedside tables or a wardrobe can be decorated with floral patterns, and forged items can be used as accessories, such as towel holders, mounts.
Bathroom furniture in Provence style can be artificially aged – this will give the interior a special charm.
Be sure to take care of the textile – blinds and curtains with ruffles sewn from fabric with floral print, towels with lace or embroidery are perfect for this purpose, and wicker soap dishes and baskets for storing bath accessories will complement the picture.
A country -style bathroom in this style will be appreciated by those who like to relax and unwind in a cozy home atmosphere and take care to surround themselves with natural materials (decorative stone, ceramic tiles, wood, wrought metal.
If you don't want to ruin the charming country atmosphere, discard the shining chrome and high-tech glass. This style is characterized by multicolor, but in muted noble tones, the use of environmentally friendly materials, artistic painting in folk traditions is also appropriate, but in a metered amount.
It will be great if you add textile accessories from a plaid type of plaid to the interior.
Classic style is not subject to time, so if you like to do everything thoroughly, for a long time, then this choice is just for you.
The most striking feature of the classic direction is high-quality expensive materials: marble surfaces, granite, luxurious wood, glass.
Noble clean shades, such as ivory, only emphasize the good taste of the owners and add elegance to the room.
It should be taken into account that the classical style has many variations and can be both quite restrained, and rich, magnificent. Depending on this, the hardware can be either chrome-plated or made of brass or bronze in a retro manner.
As a decor, sculptural elements and patterned tiles are suitable.
Art deco designers promise a surge in popularity in 2020-2021. This style has elements of luxury and a love of art.
A black and white tile will be a good choice, but only on condition that it is diluted with bright saturated tones – blue, purple, green, raspberry, which will take on the role of a stylish accent.
A special place in the interior is given to the decor – the original painting, panels with large ornaments, unusual lamps – just what you need.
It's a great idea to install plumbing of unusual colors, fortunately, you can find quite interesting offers on the Internet – this will make your bathtub truly exclusive. Faucets and brass taps complement the picture.
Secrets of designing a small bathroom
In the conditions of a modern city, few people can boast a large spacious bathtub – most of us are limited to a few square meters, so you need to be very careful in planning a small bathroom.
Decide in advance what you really need in the bathroom, and what you can sacrifice, because to put a toilet, sink, bidet, bathtub, shower, a system for storing bath accessories, and sometimes a washing machine, is a task, which is likely to be impossible.
The solution to the problem can be a corner cabin with sliding doors, a compact hanging toilet, as well as the installation of a washbasin combined with a pedestal in which the washing machine is hidden.
The ceiling is best done in white, without additional decor. Glossy light walls and large mirrors visually expand the space and make the bathroom brighter. Many designers propose to make one wall completely mirror – so the room will seem twice as large.
Do not chase the abundance of furniture – one multifunctional cabinet or a spacious cabinet will be enough, and the facades can be made mirrored.
Findings
The motto under which you should begin to equip the bathroom 2020-2021 is comfort, functionality and ease of care. For the rest, you can safely rely on your own taste, taking into account the opinions of family members, the budget and our advice. We hope that we helped you with the choice, and the atmosphere of comfort and warmth will always reign in your bathroom.
Do you want latest Trends straight to your inbox?
Thank you for subscribing.
Something went wrong.