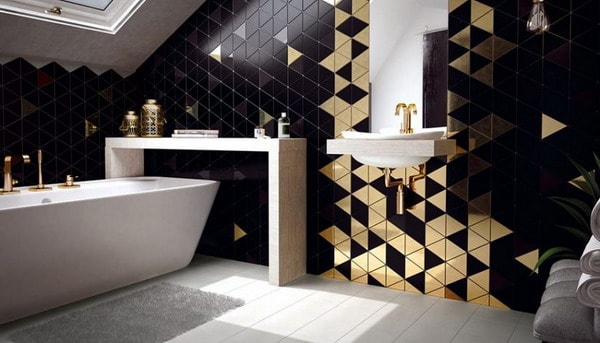 Got a bathroom repair? What material for its decoration will you use? Most likely, it will be ceramic tile – the most popular finishing material for bathrooms for many decades. Due to the huge number of options for its colors, shapes and design, you can fabulously transform both a small and a large bathroom. And to make it not only beautiful and fashionable, but also functional and practical, you will be helped by the modern design of the bathroom tile and the designer's tips given in this article.
Current trends in bathroom tiles design 2020-2021
Tile is an ideal choice for finishing wet rooms, due to its high performance. It does not deteriorate with constant contact with water, it boasts high strength and aesthetics of appearance, as well as enviable durability.
Among the current trends in tiled fashion in 2020, the following can be distinguished:
The elegance and simplicity of laconic tiled designs replaces lush ornaments and sophisticated decors. In particular, imitations of marble, plaster, concrete and wood with discreet decor are relevant;
At the peak of fashion are all kinds of graphic ornaments, among which are the patterns of "herringbone" and "chevron", hatching, the use of geometric shapes and wavy lines;
It becomes a trend to use "cartoony" imitations of natural textures – wood, marble and their natural textures, performed in cheerful shades;
In a humid room, where it is not advisable to use stone or clay, porcelain stoneware or tiles come to the rescue, whose surface truly imitates it. Basically, such textures are the prerogative of eco-style, supporting the enthusiasm of bathroom owners for a healthy lifestyle;
Among the current shades of 2020 for ceramic tiles, one can distinguish the color of foliage, sea wave, stone, terracotta and moss;
Tiles with special effects, such as the presence of relief or a special surface structure, also appear in the trend. Such bulkiness, as well as the combination of tiles with metal and glass, the thoughtful play of light on the surface of the finishing material, as well as an unusual form factor, are popular design techniques that give the bathroom an original look;
Eclecticism in tiled design also acquires extraordinary relevance – the use of ethnic patterns in the neighborhood of industrial surfaces, hi-tech in tandem with ancient elements, and natural materials next to artificial ones;
A new trend in tile design is the emphasis on form and masonry drawing. Hexagons, rhombuses, v-shaped elements and other ceramic tiles become the most popular decor for the next decade.
A modern bathroom should be functional, comfortable, aesthetically pleasing, and materials must be reliable, resistant to moisture and temperature changes. Fortunately, modern and practical trends fully meet these expectations. In this review, you will find out what the 2020-2021 bathroom trends should be like.
Contemporary styles in bathroom design
To create modern fashionable interiors, designers are advised to focus on urban or Scandinavian design. Laconic restrained and functional, these styles are welcome, but they can not be considered dogma. If desired, the design of the bathroom can be performed in a classic, modern or hi-tech manner.
What features are characteristic for a tile in bathrooms in this or that style?
Classic – implies a combination of dark tiles at the bottom of the walls and light at the top. Their separation can be done using a border from the same collection, with a stylish addition in the form of bright panels or decorative inserts.
Scandinavian style – characterized by the predominance of light colors and naturalness. In its framework, the tile can be white, whose surface is decorated with a textured pattern, or imitate masonry. In the framework of the Scandinavian style, you can combine light tiles with painting part of the walls with moisture-resistant paint in turquoise, purple or gray shades. The floor can be laid out with white and black tiles.
Loft or industrial – style, suggesting the simplicity of the lines, the lack of unnecessary decoration and unnecessarily bright colors. In its framework, in the bathroom on the walls, you can imitate a natural concrete surface, or recreate a brick wall. The trend of recent years has been large-sized tiles imitating natural stone – it is well suited for loft-interior.
High-tech style, implying the accession of metal and technology. Choosing it for decoration of a hygienic room, gray materials with inclusions of white, silver inserts, mirror tiles, glass metal mosaics are preferred
Modern – involves the use of natural light shades. In such a neutral interior, you need to correctly place bright accents in the form of panels, etc.
Choose a bathroom tile shape
When choosing tiles, you need to start from the dimensions of the bathroom, your chosen stylistic decision and personal preferences. However, your wishes should not be put at the forefront, because the quality of the purchased material, its form factor, dimensions, color scheme and texture are extremely important components for obtaining fashionable, durable and aesthetic coatings.
As for the form, it is mainly produced in the form of rectangles and squares. Although today you can find on sale pentagons with hexagons, and even tiles of more intricate shapes. If we are talking about rectangular material, on the long side the length of the face is on average 10-20 cm, and on the short – from 2.5 to 15 cm. The square coating most often has a 10-20-cm side length in increments of 5 cm. The thickness of such a material is usually not less than 0.6 cm.
Designers recommend choosing dies of small sizes if the bathroom has a non-standard shape and an abundance of decorative elements. After all, such a mosaic tile makes it possible to revet any surface.
If the bathtub has a rectangular area and is devoid of a pronounced deficit of free space, it is better to prefer oversized tiles when finishing. The number of joints in this case will decrease, and the service life of the coating will increase significantly.
Color selection for bathroom tiles ideas
In order to give the bathroom a soothing atmosphere, when choosing a finish color, you need to stop on a tile of natural, pastel shades.
However, if you want more brightness during the design, it is not forbidden to use a tile of saturated colors – cobalt, wine, purple and even black, along with contrasting light.
When experimenting with color in the bathroom, it is worth remembering her stylistic key. So, when designing a bathroom in the spirit of pop art, industrial or art deco, bold color combinations are welcome.
But if the Provence style is chosen, Scandinavian or classic, the color palette should be mainly light and neutral.
As for the surface texture, the tiles are currently available in matte and glossy versions. Of course, glossy surfaces look luxurious, but they are not so easy to care for, because all the spots from the spray are visible on them. Therefore, you should give preference to such a tile only if you are often ready to wipe it, otherwise there will be no cleanliness in the bathroom.
Here are some recommendations by designers on the color scheme of the bathroom, decorated with ceramic tiles:
In addition to the classic green, blue and turquoise colors for decorating the bathroom, pale pink and cream are now fashionable;
There is still a trendy contrast finish, suggesting the use of combinations of red-white, black-white, etc.;
The bathroom looks very harmonious, the decoration of which uses tiles of three or four shades in the limit of one color;
With the help of bright colors, only small areas of the room are decorated. For example, with the help of attractive red tiles, you can highlight the area near the washbasin;
It is common for light tiles to make the bathroom visually wider, and dark tiles, on the contrary, to narrow its boundaries. Saturated shades of tiles are permissible to acquire only with a large area of the bathroom, because they will make it small uncomfortable.
Bathroom Tile Laying Methods
How the bathroom design will look depends not only on the tiled color and decor. An important role in this matter is also played by the way of laying tiles:
"Modular" – involves the use of different-sized tiles, on the basis of which intricate patterns are laid out;
"Seam to seam" – ceramics are laid parallel to the walls with lines, sometimes in a checkerboard pattern;
"Lines" – implies the use of tiles of different colors to obtain geometric patterns;
"Diagonally" – such a covering of square tiles as a grid of rhombuses looks. The consumption of materials when using it increases significantly;
"In the dressing" – each new row relative to the previous one, as it were, moves to one side.
Select ceramic tiles in a small bathroom
In order for a small bathroom to become spacious, it requires a major redevelopment. However, this step is quite costly, capable of causing certain difficulties in the process of dismantling pipes. The best way out of the situation could be a visual expansion of the room, which could well be accomplished through the use of ceramic tiles.
And the preference for light shades of finishing material and simple patterns will contribute to the creation of such an effect.
The result will be even better if the furniture is chosen in the same shade as the wall cladding.
Expanding space with color and shape tiles
So, as mentioned above, the ability to visually push the walls have light colors of decoration. However, this is best achieved in cold rather than warm light tones.
The undisputed leader in the design of a small bath is white.
A combination of tiles of various textures and formats, complemented by mosaics or dim decorative inserts, will help to somewhat smooth its refinement.
In a small bathroom on the walls, a glass mosaic looks advantageous, attracting attention with its original texture and natural light shades.
Solving the problem with a visual increase in the space of a small bathroom, you need to determine the texture of the tile – it will be matte or glossy. And although it's not so easy to care for shiny surfaces in an effort to expand the room, designers still recommend staying on glossy and semi-glossy surfaces, because they have excellent reflectivity. Repeatedly refracting artificial lighting, they form the effect of deepening the space and bring airiness to the interior.
Three win-win design ideas for a small bathroom
Choosing monophonic light walls, you can lay out the floor with a bright and original tile pattern. As a result, your room will look unusually stylish;
Highlighting one of the four walls with patterned and bright ceramics, while the others are tiled with a neutral tint, you will achieve a truly elegant interior;
In a small bathroom there is no place for dark shades of tiles. And ideally, when designing it, you need to combine no more than 2 tones and formats of finishing material.
Speaking of tile format. There is a stereotype that for a small bathroom you need to purchase the same small-sized tile. However, designers recommend choosing a large size distillation tile with trimmed, bevelled edges. Laying it with seams in 1-2 mm., You can get a solid coating, on which the grid between the tiles is almost invisible. The resulting light and absolutely smooth wall surface will facilitate and harmonize the space of the bathroom.
Summarizing all of the above, we can say that, despite the size of the bathtub, making this room fashionable, aesthetic and practical is not so difficult. It is only necessary to responsibly approach the choice of wall and floor tiles, listening to the recommendations of designers and taking into account fashion trends in decoration. As a result, your bathroom will radically change and become one of the most favorite rooms for households!
Do you want latest Trends straight to your inbox?
Thank you for subscribing.
Something went wrong.