Bathroom design trends 2021 is possible in any style – minimalism and romantic Provence, eclecticism and baroque, loft and ethnic style of Morocco. It will take too long to list the interior styles, because modern bathrooms are planned and designed according to the principle of maximum comfort and resource saving. For small bathrooms of apartment buildings, design possibilities are significantly less, but with a competent approach and in a small bathroom, an exquisite interior and the installation of modern plumbing are possible. To design a bathroom according to the tendency to approach the living room, and with respectable finishes, only large and spacious bathrooms are possible – but this is just one of the trends of 2021. Indeed, the ancient bathrooms even had parquet floors, carpets and lacquered furniture. And in the design of bathrooms 2021, such an approach is an undoubted trend, and in the fashionable bathroom, a soft and comfortable sofa is appropriate for relaxation after a shower or bath. Neoclassical bathtubs and canopies are decorated, while window openings are decorated with luxurious drapes. Nevertheless, in a bathroom of any size, the main condition is convenience, and the design of small bathrooms in 2021 once again proves this.
Photos and ideas of the modern bathroom design trends in 2021
Loft style is one of the most popular, and for the bathroom, a loft is not only possible, but functional, practical and original. Traditional tiles are replaced with imitation brickwork – in white or terracotta colors. Clinker tiles, which have close to zero water absorption, are wonderfully suitable for facing a loft bathroom. Concrete walls based on micro-concrete and micro-cement look shockingly rough, but very tactile and comfortable, and the entire loft-style bathtub surrounds not at all about poor repair, but rather about chic originality. Plumbing fixtures are also used expensive – sometimes simple forms, but unusual up to an exclusive.
Especially interesting are the black glass bathtubs, the transparent bathtubs and wash basins, and the styling of aluminum bathtubs with a tin can. The combination of comfort and funny form mismatch with the content makes the loft bathtubs and their plumbing particularly positive, funny and cute. Walls can be finished not only under a brick, but also under an aged board, a floor – under a laminate or a tree.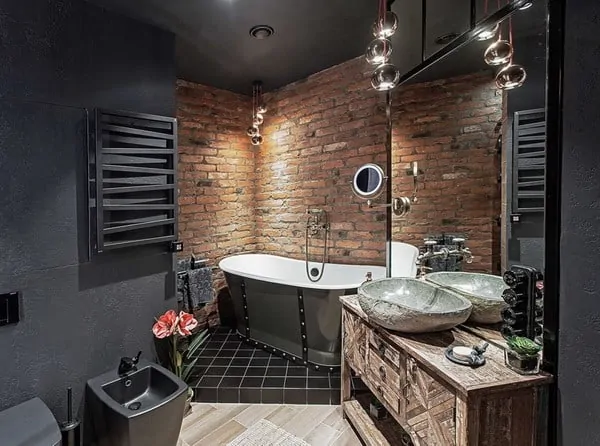 Antique-style bathrooms, grandiose Empire-style bathtubs, Victorian-style bathtubs with carpets and chandeliers are available in spacious rooms. For a small bathroom, the features of any style you like can be set using an eclectic design.
Modern lighting fixtures may look old-fashioned, but for bathrooms, a designer chandelier, even with crystal pendants or hanging on a long wire, has a degree of protection for use in a damp room.
Minimalism is an absolute trend for bathrooms in 2021. Laconic forms and cleanliness, nothing superfluous – only comfort, air, space and neutral colors. As an alternative to strict minimalism – a Japanese-style bathroom with red, white and black, symbolic decor, sakura flowers and styling of bamboo and ink drawings – all for perfect relaxation and comfort of water procedures.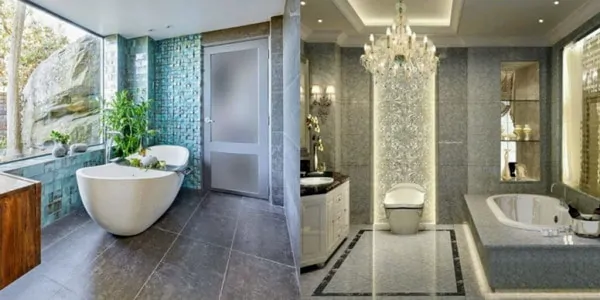 A bathroom in a vintage style, eclecticism and even retro – in 2021 in the design and decoration of bathrooms full democracy; but the main task of the bathroom is provided not so much by the effects of external surroundings – they are chosen according to personal tastes. The main tasks of the bathroom are determined and performed by modern plumbing.
Ideas for bathrooms of modern homes are more and more associated with technology, and new plumbing surprises not only with high prices. The expansion of the functionality of the bathrooms also determines new trends – not just to wash in the bathtub and take a shower, but to fully feel the comfort and practical benefits – and plumbing brands offer appliances and equipment that amaze both high aesthetics of design and rationalism. The design of sanitary ware is not just practical, it combines modern technology with natural exoticism and a fairy tale.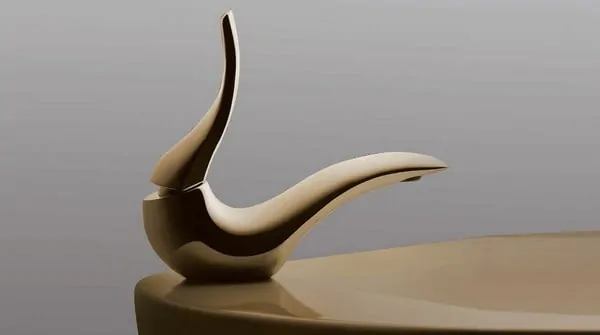 Faucets still perform their task, but turn on the water supply – for example, when moving the spout. The shape of the mixer resembles a bird on the water. The design makes the washbasin tap practical and easy to use, requires minimal attention and easy movement to turn water on and off instantly. And at the same time – the device makes up the dominant line of the bathroom interior. Finishing, shades, design idea – everything is based on, that is, plumbing. Elite sinks today scream about enjoying life, and are more reminiscent of jewelry and sculptures than sanitary-hygienic devices. Extravagance underlines functionality: recent innovations from a series of jet massage nozzles in modern designs have become a familiar attribute of comfort.
Ecology and comfort are two ideas for modern bathroom design. Intelligent systems of shower complexes with automatic maintenance of temperature and water flow rate, with integrated "light water" devices – special mixing of water with air to create a light and volumetric water flow. This is not just the maximum pleasure from the hygienic washing procedure, but also the saving of natural resources. Touch control and self-cleaning for modern sinks is no longer news, and for a high-quality cleaning of the sink, only one liter of water and 10 ml of household detergent will be enough. Smart plumbing does not give microbes a chance to develop.
Designers say that modern design is more philosophy than technology. Forms and colors determine the first sensations of the interior, and then the time comes to feel – space and air, optimal lighting for vision, well-organized heat fluxes and air exchange. Bathroom and toilet – these rooms are most likely to be the first to "support" the ideas of the primacy of the ecological approach to the life support system of the home, including in terms of energy conservation.
Auto-responsive furniture that responds to movement is not only luxurious and comfortable, but also economical. For small bathrooms, a separate lighting for each piece of furniture is especially pleasant. The furnishings of modern bathrooms are increasingly modular, transforming cabinets provide more options for storing accessories. Mirrored surfaces of the cabinets expand the space of the bathroom and create a magical play of light.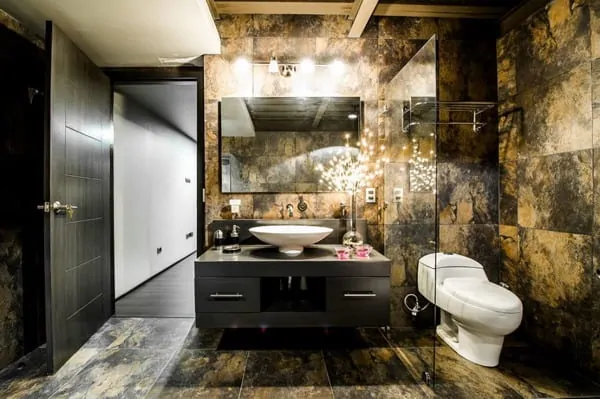 Do you want latest Trends straight to your inbox?
Thank you for subscribing.
Something went wrong.