Owning a house is most people's dream! Having a fantastic and spacious kitchen, a big living room, and of course, outdoor space to bring people over, having family time, and for the kids to play and enjoy time with their friends.
Some people might say they don't have enough space to organize activities for their kids or do anything else outdoors and create a mess inside the house to provide moments of fun for their little ones.
In this article, we will talk about organization tips, small backyards, how to create an amazing outdoor space for kids, and how to keep them entertained by creating a flow of activities outdoors. Let's go!
Organization and optimization of your space
Before bringing any activities outdoors, you should consider some things:
Kids tend to have A LOT of toys, and sometimes these can overcrowd the backyard, making it seem like we don't have enough space. If that is the case, consider making an organization game with your kids and ask them to choose their favorite toys: the rest of them can be donated.
It is a great act and you clean a lot of space.
Outdoor storage is essential! You are bringing the party outdoors, which means that shoes and socks get dirty, toys get all over the place, and you don't want to bring this mess indoors. Having cubbies or other organizational storage outdoors will save you a lot of headache (and stains on the floor.)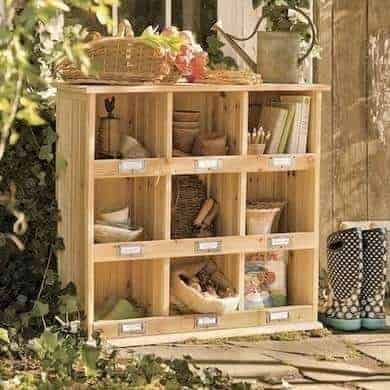 Source: Pinterest
Incorporate storage on something your kids would like
Is your kid a fan of houses? No? maybe you could open a little restaurant for them? If so, incorporate some organizational skills into it! You can have storage inside the play area and use it for different solutions.
Source: Pinterest
Kids love being entertained, so maybe teach them about the importance of fruits and vegetables while creating a small space for them to play and creating storage space for their toys.
Source: Pinterest
AND, if you have a deck, you can create a space for your kids and yourself.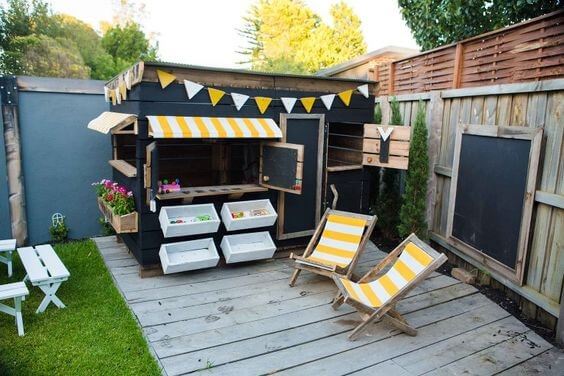 Source: Pinterest
Small Backyards
If you have a small backyard, don't be frightened, we are here to help!
Small backyards take even more organizational skills, but with the right plan, anything can happen.
Walls:
When we cannot go horizontally, we go vertical. The walls are a fabulous solution! You can place different activities there, such as a blackboard, so they can draw a basketball hoop to keep active, and of course, a small rock-climbing wall if you are interested.
Also Read : New Wallpaper Trends For Children Room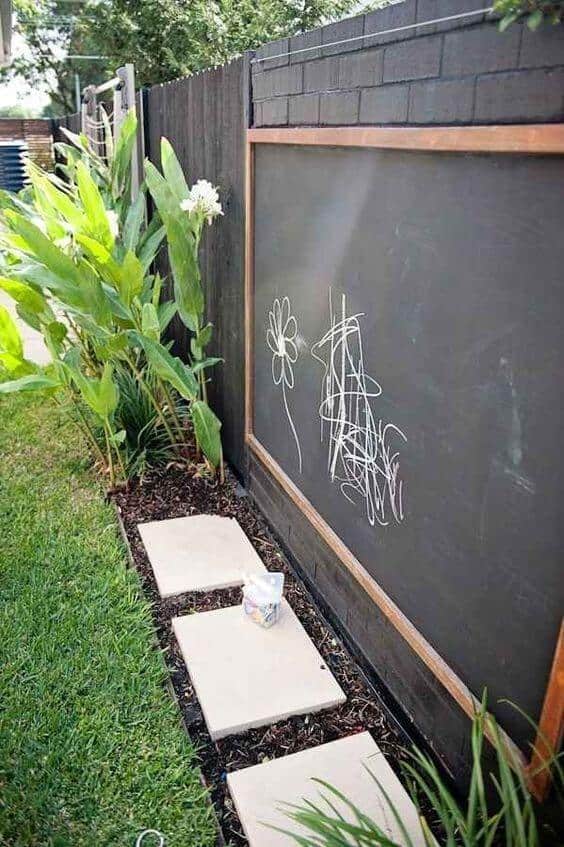 Source: Pinterest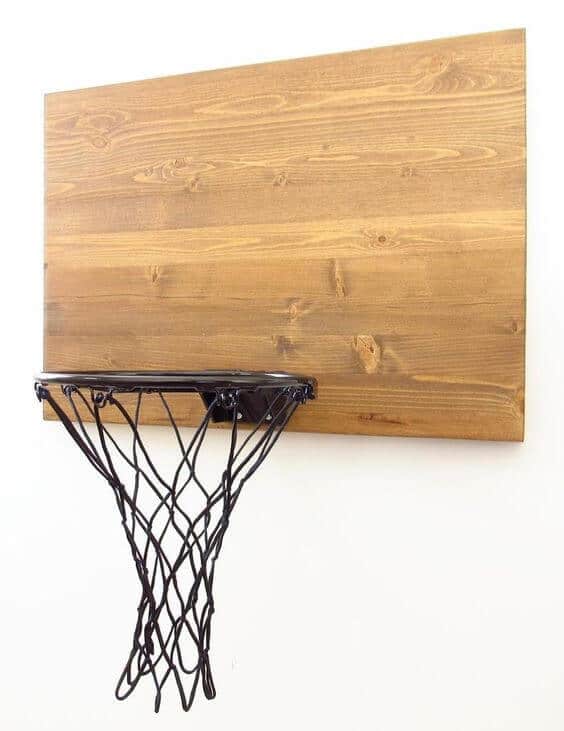 Source: Pinterest
Source: Pinterest
Don't want to lose precious space?
No space to lose? No worries, you can always cover it up!
Smart solutions include floor activities that take space only when used; otherwise, it will be like they are not even there.
This fantastic trampoline is open only when used. Afterwards, you'll close it and you'll have your backyard space back.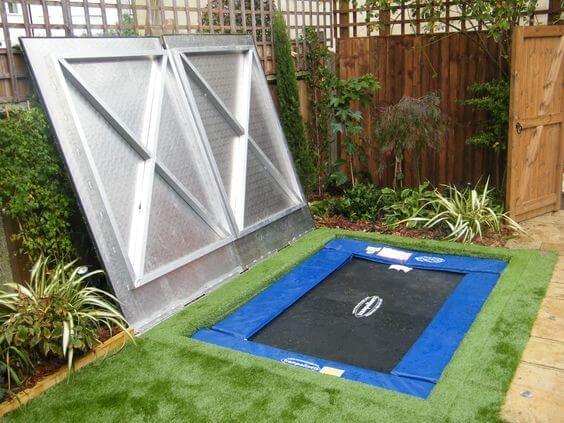 Source: Pinterest
The Hanging Den
Suspended from the ground, the hanging den is a seat that embraces children with a soft and welcoming embrace; with this type of hammock, the little ones can curl up and enjoy a moment of quiet relaxation by dozing off or leafing through a book, lulled as if in a slow swing.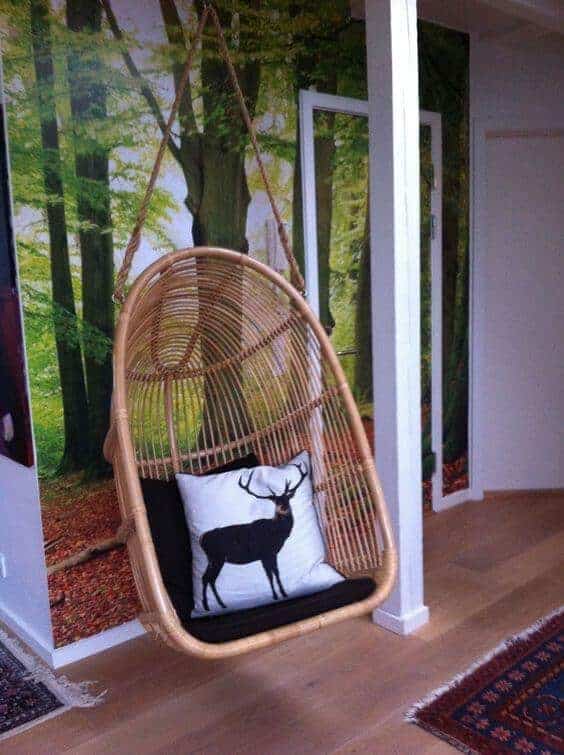 Source: Pinterest
A Relaxing Canopy
Hanging in the shade of a tree and enriched with pillows and blankets, the canopy represents a cozy little house in which children can play protected by a soft and airy fabric.
This place offers an intimate space for play and sharing, in which to host other children or spend time in the company of adults.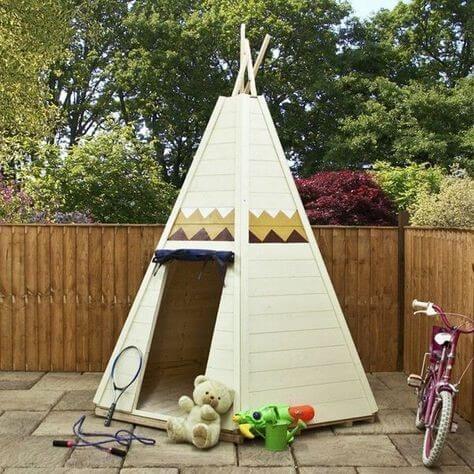 Source: Pinterest
A Picnic Table
The picnic table for children is a piece of outdoor furniture that creates a convivial space in which to have fun with table games, chat with friends or eat a snack.
Equipped with built-in benches, these picnic tables are designed to accommodate several children; during the winter, they can be easily used inside the home as a base for playing or doing homework.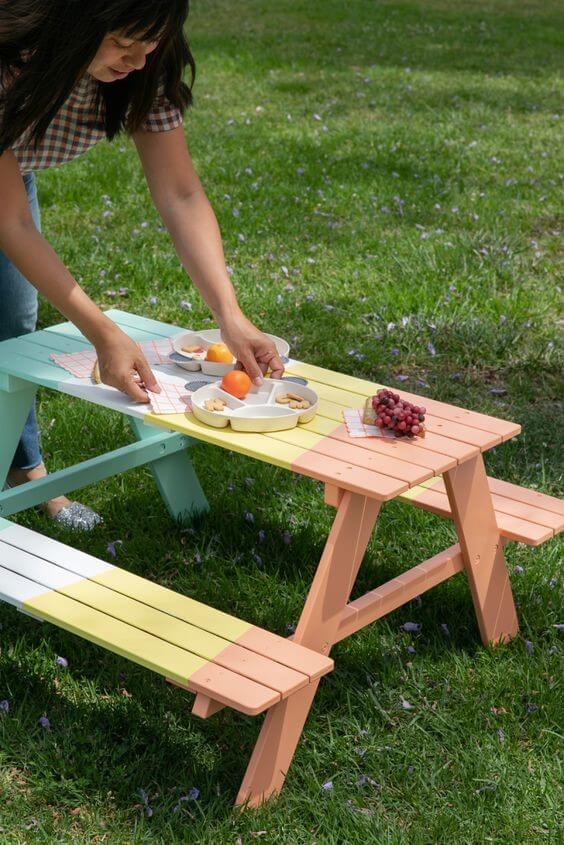 Source: Pinterest
Children's Slide
Every child loves to play, and one of the simplest games to play and place in the garden is undoubtedly the outdoor slide. Just buy a crazy-colored model to surprise the little ones.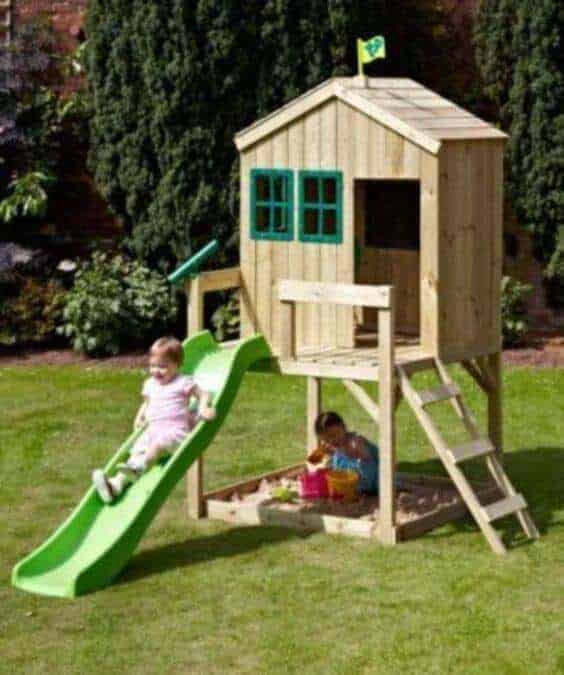 Source: Pinterest
Mini pool for children
Who doesn't want a swimming pool to place in their garden? The grown-ups dream of it, and the little ones do too. In this case, it is unnecessary to purchase a costly pool that requires a particular installation; an outdoor model of not gigantic dimensions is enough for children to play.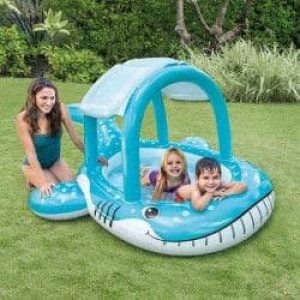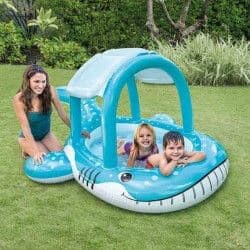 Source: Pinterest
A garden playhouse
A treehouse would be ideal for children to play in the garden, but one placed on the ground, especially if the little ones are really young, is a good solution. You can buy it or build it with your own hands.
Source: Pinterest
A mini tepee in the garden
To make your garden alternative, you could opt not for the classic house, but for a tepee, to be placed in a shady area, perhaps under a tree.
Source: Pinterest
A colorful swing
Another game much appreciated by the little ones is the children's swing. Also, in this case, there are many on the market, but you can have fun making your own, to customize as you think.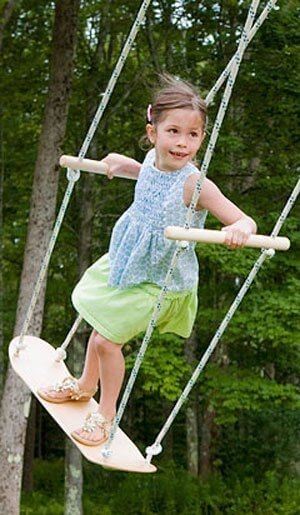 Source: Pinterest
A nice parasol
Adults take shelter in the shade, when the sun is particularly scorching, and so do children. In the garden, therefore, place a parasol, even better if it is very colorful.
Source: Pinterest
A garden sandbox
One of the DIY children's games that you can easily make is the sandbox. It involves building a fence with wooden planks and putting sand in it. The little ones will know how to have fun making castles and molds of all kinds.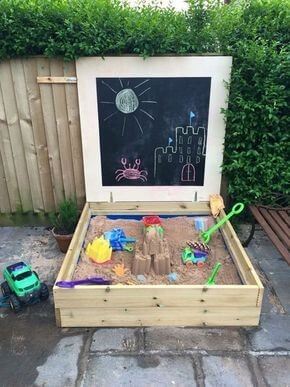 Source: Pinterest
A kid-friendly vegetable garden
A good way to educate children about the correct way of eating is to make them play farmer. In this case, the construction of a small vegetable garden may be a good solution for the education of the little ones, also in line with the Montessori method and style.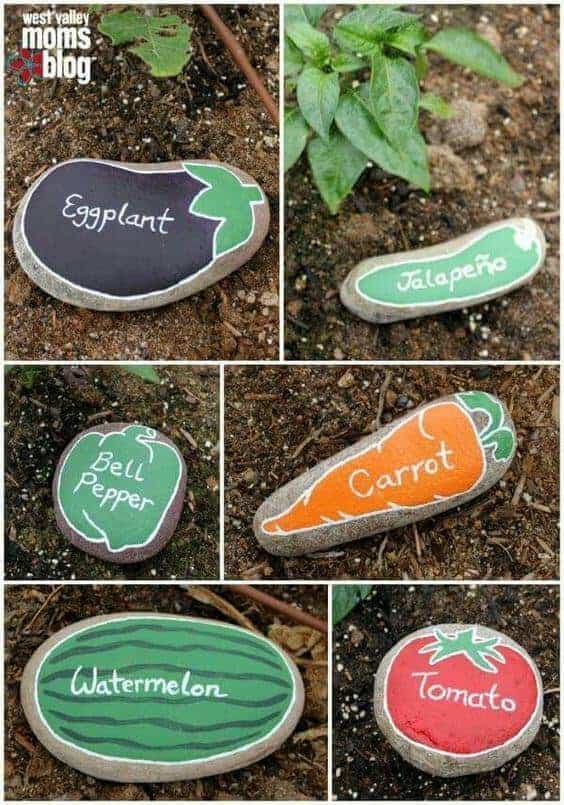 Source: Pinterest
Inflatable swimming pool for children
Summer means swimming! To find a little cool on the hottest days, your children will surely appreciate an inflatable pool in which to play and have fun with friends.
Soft and colorful, they are perfect if you are looking for an economical and easy-to-maintain solution. They in a short time and once the summer season is over, they can be safely stored in the closet or cellar.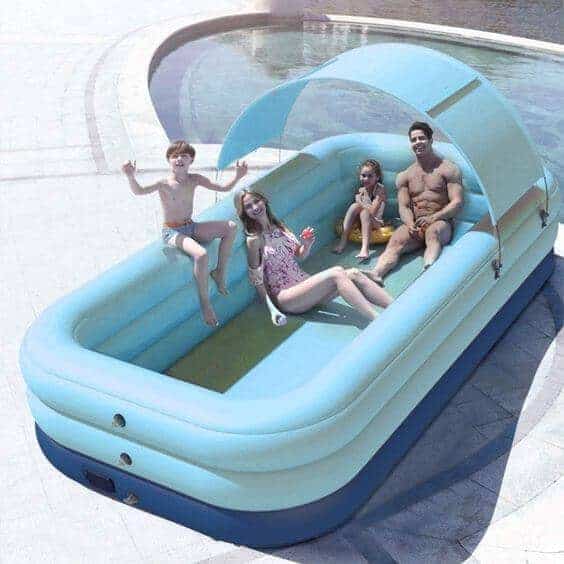 Source: Pinterest
Inflatable garden games
The desire of every child becomes reality thanks to the inflatable garden games, to jump and have fun in complete freedom and safety.
Perfect for setting up a real playground in your garden or for organizing a memorable birthday party. There are many shapes and sizes, made with exuberant and lively colors capable of brightening up any garden.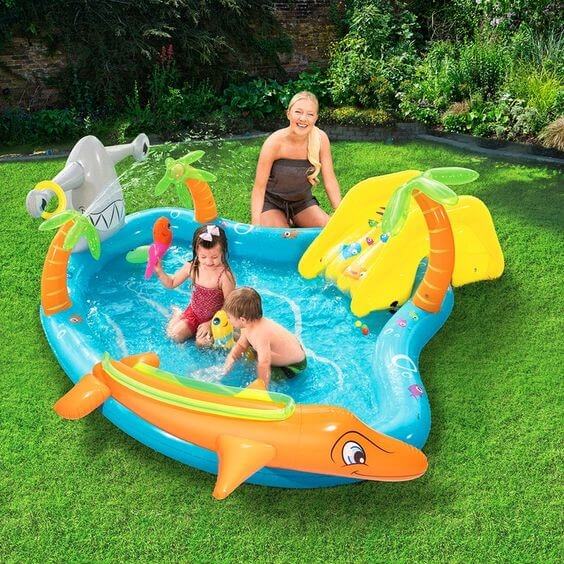 Source: Pinterest
A kid trampoline
Trampolines are decidedly sparkling and fun element to insert to decorate a children's garden.
In this case, since these are trampolines for children, it is essential to choose systems equipped with side protective nets, which guarantee the right degree of safety during play.
My advice is to choose a trampoline as big as possible, both because children grow up quickly and therefore may need a more spacious structure, but also to allow them to play with friends.
This choice will in any case depend on the size of your green space, so that the trampoline can fit into your garden with coherence and harmony.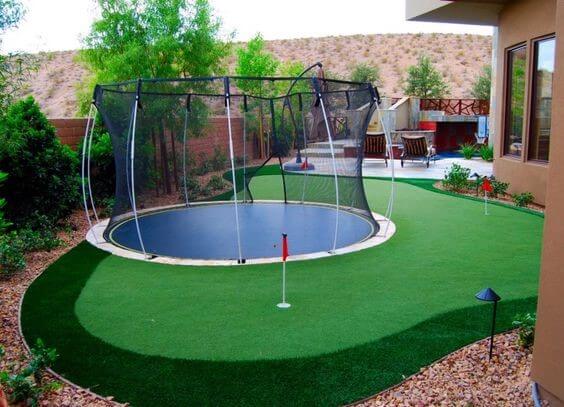 Source: Pinterest
Conclusion:
– Organizing your space is a great way to maximize it, and therefore create incredible outdoor storage and activities for kids
– Incorporating your storage into your kids play area (castles, houses, etc.) is important and you can make it fun.
– There are always smart solutions for small backyards, so, don't feel discouraged.
– You don't need to lose space in order to have an amazing play area designed
– Creating an outdoor area for your kids can be a fun parent and kid activity to do on a weekend, you'll keep the little ones entertained and you'll create an amazing bond with your child.
Also Read : What are the latest children's bedrooms trends?
Did you like the post? Pin it!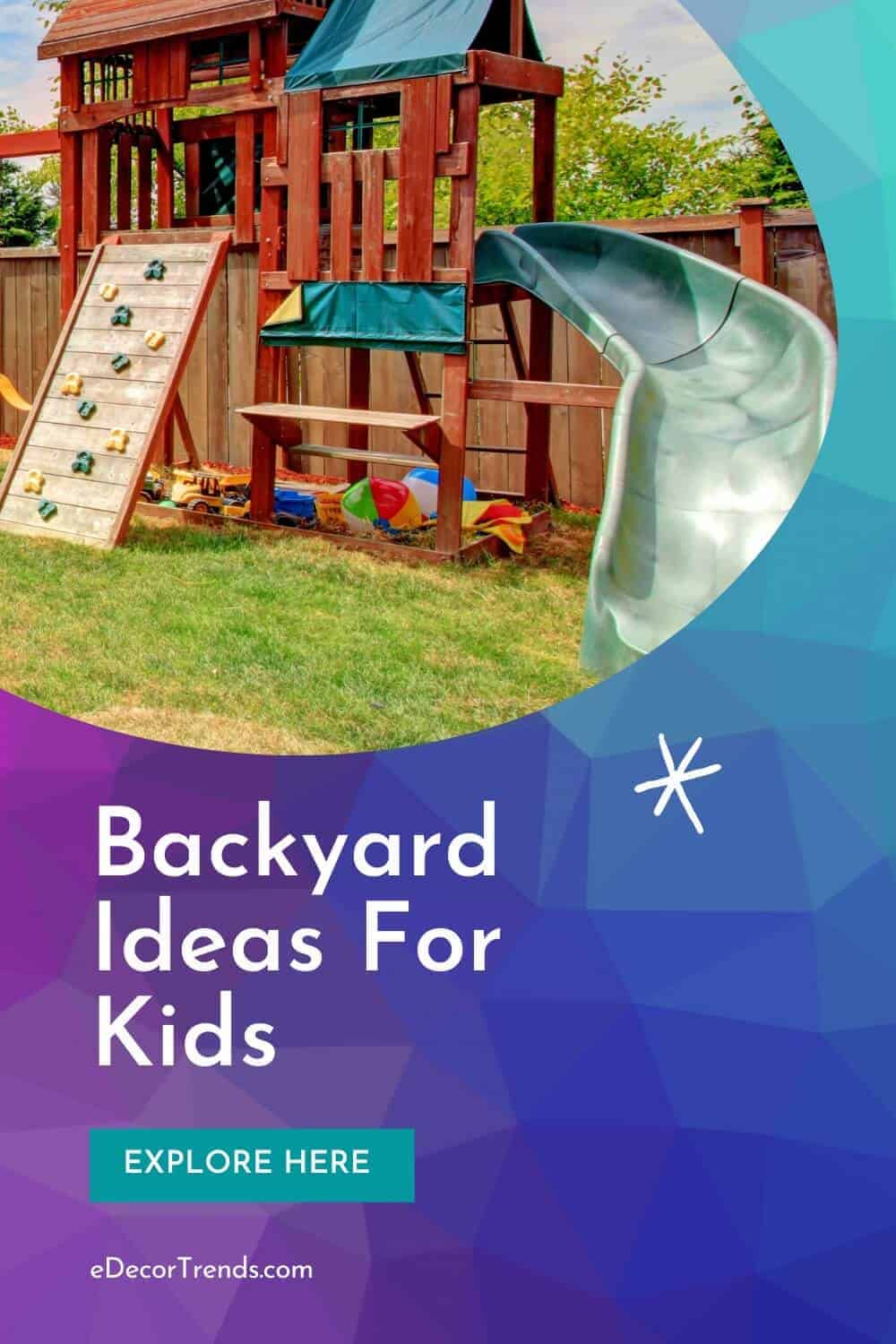 Do you want latest Trends straight to your inbox?
Thank you for subscribing.
Something went wrong.