Your home office should be a comfortable place to work in peace. A refuge to think and reflect better. For this reason, the choice of suitable furniture and furnishing accessories is essential for your well-being. Thanks to our tips and many decorative trends and ideas, changing your home office's look will be easier than ever.
Whoever gets off to a good start is already half the battle
Before starting to choose office furniture, we recommend that you prepare a plan. How big is the room? How many people will use this space to work from home? Which style do you like best? Sit down, organize your thoughts and imagine the perfect working area for you.
Office furniture: beautiful and functional furniture
Furnishing the studio does not mean giving up style in favor of practicality. Quite the opposite! Adding a personal touch is easier than you think. Let's start with the basics. In addition to a sufficiently spacious desk, you need a comfortable office chair and suitable furniture to store everything, such as dressers, cabinets and shelves. Also, don't forget a surface suitable for placing your printer, binders and all sorts of documents.
If your studio is small and you don't have enough space, an interesting idea could be to make the most of the walls. But remember to design everything ergonomically, i.e. taking into account your ideal posture and your height. When furnishing the studio, quality must always be placed first: the furniture must not only be beautiful, but also resistant and durable.
Source: Pinterest
At this point, ask yourself if you will also have to welcome customers or business partners into your workspace. If the answer is yes, make armchairs, chairs and poufs available to guests. And a wardrobe with hangers could also be very useful.
If you just want to bring a breath of fresh air to the studio, think carefully about your priorities. How about an armchair with a great aesthetic impact or an elegant wall shelf? Sometimes small, reasoned interventions are enough to change the mood of a room. Online you will find many original ideas!
Check this out for furniture ideas.
Choose the right lighting
In order to work well, you need to see well. Too much or too little light could strain your eyes and make you tire more quickly. Studies have shown that productivity increases with daylight. This is because our biorhythm depends on the sun. The ideal thing would be to set up the studio in a room where there is a lot of natural light, but if you don't have large windows, opt for a lamp that emits a similar light. Be careful not to use it at night, though: it could change your biorhythm.
An absolute must have is a proper desk lamp. You could also add a floor or wall lamp and the inevitable ceiling light. The larger the office, the more light points are needed.
The color palette for the study and work area
Your office will be even more comfortable thanks to a careful choice of shades and complementary colors. Start with the color of the walls, which affects the overall effect. Moving on to the furniture, dark wood brings a rustic charm to the environment, while bright colors can make the room seem larger. But try not to overload the space with color and avoid too bold mixes, which could be distracting.
Everything you need to work efficiently
Think about what you need every day to work: notebooks, pens, binders, post-its and much more. These are indispensable items, which today you can also find in elegant and refined versions. You could choose a designer pen holder, to leave on display on the desk, or an original adhesive tape dispenser and a super chic paperweight.
Source: Pinterest
Complete the office with the right decorations
To complete your home office and make it look perfect, add lots of small decorative elements. For example, choose a plant: in addition to beautifying the room, it is useful for oxygenating the air you breathe every day. Decorate the walls with photos, paintings and decorations, giving a personal touch. You can follow latest office decor trends. Why not choose motivational posters? And don't forget boxes and containers, perhaps in precious materials such as porcelain and marble.
Now organize everything
To work well you must always keep everything in order. Cabinets and shelves are indispensable, as they allow you to organize books, documents, folders and files. Thanks to special boxes and hidden doors you will never know chaos! A bookcase, on the other hand, is ideal for finding everything right away, and also helps to improve the overall style of the studio.
A multitasking space
It may happen that the study or office is used as a guest room. To provide a comfortable space for friends and family, you could add a sofa bed. So you can also use it for relaxing breaks in search of getting back to your desk will be nicer.
Source: Pinterest
Maintain an ideal temperature
Feeling good is essential when working. The external environment has a great impact on concentration. Think carefully about the ventilation of the room and add green plants, which improve the air quality. As for the temperature, we recommend a temperature around 20 °C or in any case not higher than 22 °C, with a humidity of between 30 and 60%.
In order to improve the air, it is always advisable to ventilate the studio frequently. In this regard, an ad hoc system may be more effective than opening the window from time to time.
Feng Shui: how to arrange the furniture
According to the traditional rules of Feng Shui, you must choose a work position with a wall behind you. Have you ever worked in an open plan office? Surely you will have felt some discomfort, knowing that others could observe you from behind your back. Alternatively, you can always use a screen or divider panel. And, once again, don't forget the light: it's better to have a window close by, but avoiding direct contact with too strong rays. Follow Feng shui decoration trends to get good energy
Ergonomics in the office: ergo… what?
Work takes up most of our day: after eight hours at your desk you need to switch off. Spending so much time in the chair could pose a risk to your health, especially if you don't exercise enough and maintain poor posture. Follow our ergonomic tips to customize studio or office furnishings and create the right atmosphere.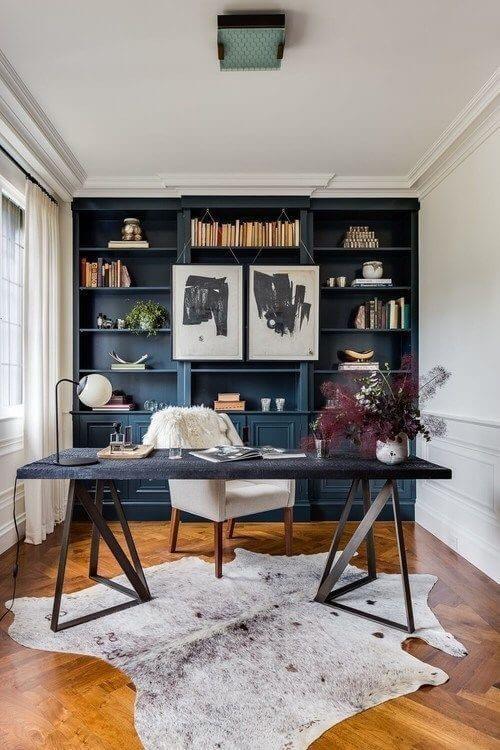 Source: Pinterest
Here are the tips to start from:
The desk must be at least 80 cm deep, 160 cm wide and 130 cm high. (Best Ergo desk)
Adjust the office chair so that your arms rest horizontally on the desk. (Best Ergo chair)
Make sure you have enough legroom under the table.
The screen of your device must be quite large (around 24 inches).
If you have back problems, you may find yourself better off working standing. In this case, choose a desk that can be raised and lowered.
Make it look good!
The environment in which you work should promote productivity. For this reason, the general atmosphere and office furniture are always very neutral. But paying bills or meeting a work deadline will be easier in a room designed just for you. Choose the style and decorations according to your taste, inspired by the suggestions of our experts.
Source: Pinterest
Home office ideas for him:
Country style: inspired by the classic country house atmosphere. The heart of the room could be a solid wood desk. Add a wooden shelf for books and organizers and a soft carpet on the floor, which will create a cozy atmosphere. To complete the look, a vase of fresh flowers placed on the desk cannot be missing, to give color and enhance the natural charm of the office.
Industrial style: if you prefer a more minimalist work atmosphere, opt for the Industrial style. A steel desk, silver or black, with a projector-style lamp to illuminate the worktop will be perfect. Yes to white walls, decorated with a large blackboard on which to write your notes.
Home office ideas for her:
Glamour Chic Style: Add a touch of glamour to the study using shelves in silver and shiny gold, paired with a total white desk. Arrange poufs and floor cushions to complete the cozy mood. Embellish the walls with decorated frames and complete with a colorful rug, which will liven up the room.
Ethnic Style: Add elements in natural materials such as wood (especially teak), wicker, bamboo, leather and cotton, in warm tone-on-tone colors in shades of dark brown, red-orange and sand desert. The lighting must be warm, in perfect harmony with the rest of the environment. The ornamental details are fundamental: we can indulge ourselves with animal print fabric seats, tribal statuettes, elephant-shaped bookends, leather desk pads, bamboo frames and such.
Source: Pinterest
Do you have little space available or do you need to create your office in a corner of the living room or bedroom? Do not worry, we have many suggestions for this too, such as space-saving furniture to make the most of every corner! Start designing home office furnishings right away and revolutionize the way you work!
If you'd like to check out some cool home office furniture, click here. Check out this link if you'd like to purchase a nice decoration for your office, and here's a gadget that everybody will need to organize their office.
Do you want latest Trends straight to your inbox?
Thank you for subscribing.
Something went wrong.