At Be My Desk, we absolutely wanted to share with you the 5 main trends in office design to follow in 2021. Whether you are Office Manager, Founder, HR, Executive Assistant or simply a curious collaborator, here is the list of the main (and sometimes new) trends in office design in companies that will fully prevail in 2021… Enough to get a step ahead to start this new decade.
Come on, we stop making the suspense last longer. In 2021, we will have to remember the key words of the following office layout: acoustic comfort, hybrid spaces, upcycling. Good reading !
Development of a meeting space at Wellio in 2018, a pro-working player in Europe – Copyright photo: © Ooshot / Julien Philippy
1. Acoustic comfort, the flagship and vital trend of office layout in 2021
Originally, the Open Space was a German (and not American!) Concept born in the 1950s. The initial idea was to create a space in which the office layout and office furniture were mobile. This, in order to be able to rapidly evolve the same workspace without constraint … No replicating the concept of Open Space in more than half of the companies in the world, including in France!
Rest assured, if you have an Open Space, we have nothing against… For the simple reason that it is possible to work efficiently, even in this type of office layout, as long as companies have everything implemented to reduce the inherent acoustic discomfort.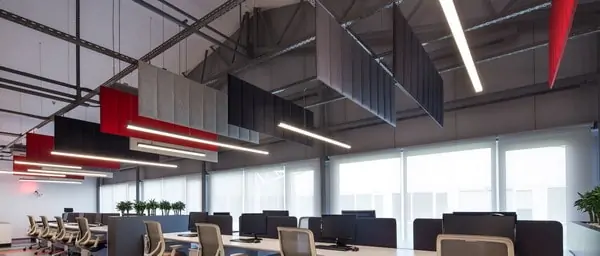 Example of reducing ambient noise in an Open Space by up to 40%, thanks to acoustic panels for business
The ambient hubbub of Open Spaces is one of the primary causes of employee absence, and of team productivity decline. The slightest noise peak distracts people sensitive to noise. At Be My Desk, every day, our team is in contact with companies, one of the major objectives of their office layout project is to minimize the noise level of their Open Space, for example by adding acoustic panels for companies, ceiling tiles, acoustic armchairs…
IN 2021, CHOOSE TO OFFER MAXIMUM ACOUSTIC COMFORT FOR YOUR EMPLOYEES
More than ever, the main objective of office layout in companies will be to offer real acoustic comfort to its employees. And the office furniture sector is evolving to meet these expectations: the offer is expanding and the market is gradually structured around this societal phenomenon in business. Besides, we had written a few months ago here a full article which gives good advice to reduce the sound level in openspace.
The range of acoustic booths, also called Phone Box, has been structured in recent years. This is to offer companies the opportunity for their employees to isolate themselves in peace, without having to go into exile in closed meeting rooms. These cabins can be closed, semi-open: this type of furniture has developed rapidly, in response to the importance of acoustic comfort for employees at their workplace.
NEED TO REDUCE NOISE IN YOUR WORKING SPACES?
Discover here all of our acoustic furniture for business : acoustic office partitions, armchairs and acoustic cabins for 1, 2 or 4 people. In 2021, create quieter working environments with Be My Desk!
2. Hybrid workplaces: between work space and living space
The vocabulary of companies to describe the workplace is changing. Home office, hospitality office… Why? Because companies feel that their employees need a new work environment, more in step with the arrival of new generations on the job market, and on the verge of accessing in turn positions of responsibility.
One of the flagship trends in office furnishings in 2021 will be resolutely that of reproducing a cocooning, familiar universe, that of "like at home", transposed to the workplace. The HR challenge is enormous : the office environment must now contribute (almost) as much as wages, to employee loyalty. It is no longer rare to read on architects' plans the presence of an Open Space, adjacent to an informal exchange area or an area dedicated to Phones Box.
Look how Airbnb has designed its new Parisian space, located near the Opera, the "Nest", a cozy space as an extension of the most beautiful decorations of apartments listed on its connecting platform.
Installation of part of Airbnb premises in Paris, near Opera – Copyright photo: © Donald Murphy / Airbnb
AIRBNB CHOOSES THE WOODLEG OFFICE RANGE TO FURNISH ITS PARIS PREMISES
Have you fallen for the desk in the foreground of the photo of the Parisian premises of Airbnb? Good news: this is the range of wooden desks with the Scandinavian design WoodLeg available on Be My Desk.
And who says arrangement "like at home", says creation of zones of exchanges and informal work. The idea is that not everything can be planned at the office: you have to let chance meetings and collaborations happen. The office layout in a company must be a place where synergies are created, from which new ideas and projects arise, which makes fixed workplaces less possible, where each employee communicates only with his direct neighbors!
Informal meeting space in the Parisian premises of Airbnb – Copyright photo: © Donald Murphy / Airbnb
In 2021, we will therefore use every corner to create informal but furnished meeting spaces, thanks to high tables, relaxation and reception furniture (sofas, sofas). We will therefore think of the arrangement of space as a fluid space, areas separated from each other, like "accidents" along the way, according to the movements of employees.
Gradually, the budget for office furnishings in classic furniture is reduced in favor of that devoted to living spaces, such as relaxation, nap, or simply cozy rooms.
Google premises in Zurich, Switzerland, or when a slide takes you from one floor to another – Copyright photo: © Google
3. The invitation to mobility in the office: when the office layout moves employees
Do you know what is going on in your body when you are sitting? After an hour, the blood vessels lose 50% of their volume : blood circulation is no longer facilitated, and the risk of thrombosis for example (arterial clot) increases. And after 5 hours, your blood sugar level increases every minute, because your body cannot burn enough energy absorbed during breakfasts.
Well, we didn't want to worry! But only explain to you why it is a medical issue to allow your employees to move as much as possible in their workspace 😉
Development of an Open Space thanks to easily transportable wheeled offices at Wellio in 2018, a player in pro-working in Europe – Copyright photo: © Ooshot / Julien Philippy
And this is concretely one of the 2021 trends in office furnishings which is gradually gaining ground in all companies concerned with the well-being of their employees. We are witnessing the development of nomadic workspaces in all possible areas, in corridors, in alcoves… Although less comfortable, these spaces allow itinerant and mobile functions, such as sales forces, to remain mobile without being hampered in their activity.
DO YOU KNOW THE NEW CONCEPTS OF HOT-DESKING, OF DESK-SHARING?
We talk about Desk-sharing, or even Hot-desking, to illustrate unallocated offices, which we can occupy "on the fly". This increasingly privileged configuration in 2021 cannot however be suitable for sedentary functions, for which the layout of a corporate office must be thought out so as not to be a constraint in their activity.
Development of offices not allocated on the principle of the concept of hotel-desking – Photo copyrights: © web.esna.com / © inc.com
And what about the office itself! Formerly fixed, we are witnessing the rise of standing seated desks, which allow an employee to work sometimes seated, sometimes standing, to always keep moving. Office design therefore has its role to play in this invitation to mobility.
Many Architects and Workspace Planners are planning the layout of their clients' offices in order to get employees moving. The layout of the offices is thought out from the planning phase to force users to move as much as possible between two very busy rooms, when in the past the distances of the routes were optimized to be as short as possible… Change of paradigm in progress in workspaces!
Example of a sit-down desk with a crank to adjust its height according to your desires, available on Be My Desk
CURIOUS TO DISCOVER OUR SITTING OFFICES STANDING FOR BUSINESS?
Be My Desk has selected here several ranges of sit-stand desks for companies, suitable for all budgets. Why work only while seated, when you can also work standing?
4. Environmental awareness as a decisive factor in the office layout phase
You certainly know: the media often talk about it! The era of possession has gradually given way to the era of more respectful consumption. Both from an environmental point of view, with the will of companies to develop their activity by reducing their ecological footprint as much as possible. Only to adopt a behavior more aware of the challenges of consumption in the office layout of companies.
For office layout, the reuse of existing office furniture and the recycling of furniture are gradually required each year, for two types of companies: those with limited cash, and those deeply committed to an approach continuous improvement of their environmental impact and their role as a social fact. Enough to find interesting office layout ideas!
Nothing is lost, everything is transformed, when it comes to fitting out a corporate office. The upcycling, or the upcycling is done to transform existing materials of higher value products.
Le Groupe La Poste reused old used ping-pong tables to make meeting tables using upcycling – Copyright photo: © Groupe La Poste
Development of informal discussion spaces with recycled wood furniture, at Coca-Cola Services – Copyright photo: © Coca-Cola Services
5. Office design is becoming a marketing element of the employer brand in 2021
More than ever in 2021, companies are using the layout of their offices as a marketing element to strengthen their employer brand, attract and retain new generations, these Millennials who are now looking for more than just a salary.
HR Functions, Marketing and Communication departments, sometimes on the initiative of the Founders or C-level for the smallest companies, communicate on their working environment via photos, reports (the interiors of companies registered on Welcome to the Jungle, for example!), presentations of their premises, posted on Google. Even the younger generations, more inclined to proudly share on Instagram or Snapchat images and videos of the premises they occupy! Companies welcome journalists and influencers from their industry at home, as if to invite them to decipher their corporate culture through the layout of their offices, which has become an extension of their brand DNA. There is no shortage of office layout ideas.
WHAT ARE THE IDEAS FOR DESIGNING TO WORK ON YOUR EMPLOYER BRAND?
Concretely, how do these companies go about it? The shapes and colors of office furniture reflect the brand image, in the visual and sometimes sound signature: make way for offices mainly using the color of their logo, creating a work or waiting area illustrating the birth of their activity, such as the geographical area for example…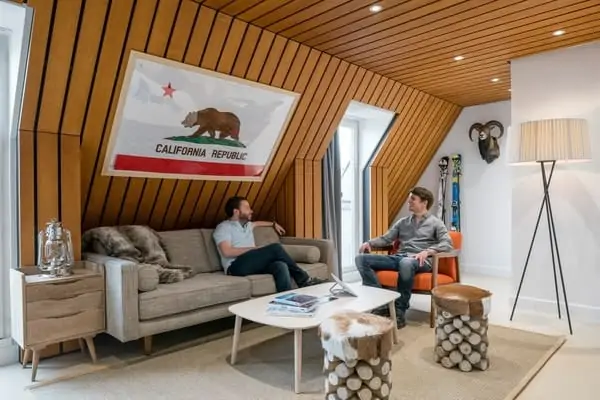 Cozy exchange space in Airbnb's Parisian premises, recalling the geographical origin of the company, California in the United States, as an extension of its brand DNA – Copyright photo: © Donald Murphy / Airbnb
These rather cozy office layout spaces generally consist of natural office furniture, wood, cafeteria space and comfortable seating furniture, to create informal spaces or conferences, thanks to easily modular furniture. More and more large companies are integrating coworking spaces within their corporate premises, often located on the ground floor of their offices. This is called the corpoworking, the creation of spaces, thanks to the office layout, welcoming startups incubated or not, young business projects.
The objective is twofold: to work on its own image externally by communicating on its ability to renew itself and to embrace new business practices through the layout of its offices. And create synergies between its employees and the external audiences they receive, to stimulate creativity and innovation through driven exchanges. As the Orange Group does, for example!
Do you want latest Trends straight to your inbox?
Thank you for subscribing.
Something went wrong.