Bathroom trends 2022 offers new bathroom trends that come with the new 20's decade offering us new designs that need to be implemented and designed to make your bathroom achieve that elegant look you've been craving for. A bathroom is one of the most vital rooms in your house; designers have come up with stunning trends and designs for small bathrooms and big master bathing rooms.
Everyone yearns for their bathtub after having a long day; all you want to do is plunge yourself into your marvelous bathtub and have a heavenly moment of refreshment or take a cool shower.
Right here, you're going to come across trends that will help you sanction your bathroom for leisure purposes and achieve comfort at its best. The following design ideas and trends will help you achieve a certain mood considering your passions and the type of vibe you want to hang in your bathroom.
Top Bathroom Trends 2022
Wallpapers
Wallpapers and paintings are big-time emotion-rousing thus having a showpiece stuck to your wall would be a big advancement for better design and style
Designers have relentlessly created big, colorful patterns and graphics for interior decoration. Art pieces for different sections of the house are available online for sale by designers and decoration companies.
These popular masterpieces have made a very big impact on generating an interesting feel in your shower rooms.
It's about time you work with some glue! stick splendid wallpapers and paintings on your bathroom wall to make it as eye-catching as possible.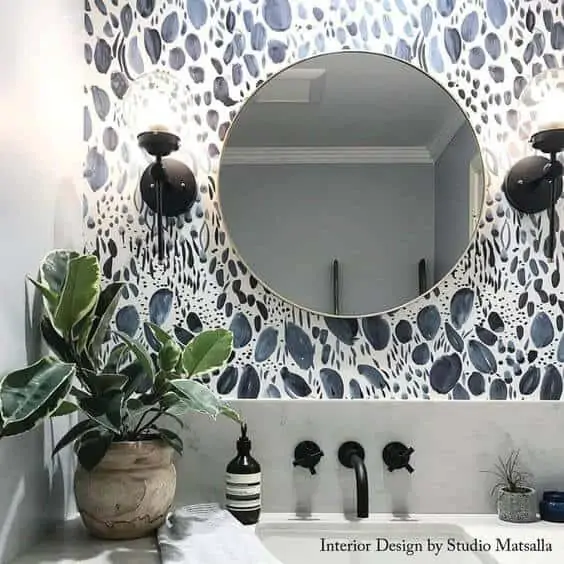 Source: Pinterest
Advanced Mirrors
Mirror types widely range in terms of shapes and sizes; from bold arithmetical shapes to modern asymmetrical designs. Asymmetric mirrors have proven to be dominant as top implemented bathroom trends 2022, and classier mirrors will yet surface for bathroom trends 2023 and bathroom trends 2024. Mirrors upgrade your bathroom's space since you'll have to set a special section aside for insertion of a mirror; a small reasonable standing space beside it too, kept at an eye-level.
Mirrors help us hit the bull's eye when dressing up and getting ready in terms of wear. They help keep things accurate and point out bloopers when getting ready for your day.
If boring is what you have in mind, then you must be in the wrong bathroom. Having a mirror/s in your shower room keeps things interesting for the eye, therefore, achieving a lively atmosphere.
Asymmetric mirrors are back and trendy than before.
The evolution of advanced modern technology mirrors has turned out to be a very big trend in interior design. With features like anti-fog and smart touch abilities, these mirrors have become such a craze and people can't help having at least one in their bathroom space.
Modern asymmetrical mirror designs have rapidly elevated bathroom designs this decade due to the undeviating advancement in technology in the modern world.
Source: Pinterest
Wood accents
Wood accents are back and analysis states that they've become trendier than before. Warmer classic tones have dominated not only in bathroom decoration but also in interior decoration on the whole. Wood accessories blend well with industrial and vintage trends to create classic and more eye-pleasing visuals. Various shades of wood pair perfectly with Green, blue and white color shades. Darker bathrooms go well with wood accents.
Source: Pinterest
Insert Storage Spaces
Embed neat storage drawers, shelves, and cabinets to keep your bathroom organized and neat all the time. Storage cabinets will help you refrain from messy environments.
Create a relaxing space in your bathroom by regularly scheduling your cleanups and implementing them appropriately.
Storage spaces will help you relieve stress and keep your day to day activities systematic.
Source: Pinterest
Big bathtubs and open showers
Having more space has always been the key aim of restructuring and remodeling interior sections of your house. Bigger bathtubs mean a bigger relaxation space. Expand your bathtub and showers to achieve comfort and relaxation in your room.
Work on your storage shelves and cabins to earn more space for expanding your bathtub and shower sizes. Bigger showers are more convenient to the users since they allude to enough and perfect personal space for alleviation after a long day of tackling tasks and your day-to-day activities.
Source: Pinterest
Color saturated tiles
Bathroom tiles ought to be shiny and attractive in a conspicuous manner. They need to be water repellant and somehow easy to clean. Apparently, designers have been steadily working on unconventional shapes like hexagons, pentagons, square tiles, and scallops.
Rectangular subway tiles have barely been in production lately, due to the rise of demand for a variety of other tile shapes. Going for a shaped tile pattern is a superior method you should bring to effect especially if you're about to rip out the big color tile on your walls or floor.
Decor specialists have seen it to create spectacular patterns and combos that will help you make your bathtub look marvelous and outstanding. Partially tile your walls either halfway up or bring the tile up to the mirror side and other unexpected design features to accomplish a high sense of serenity and contentment.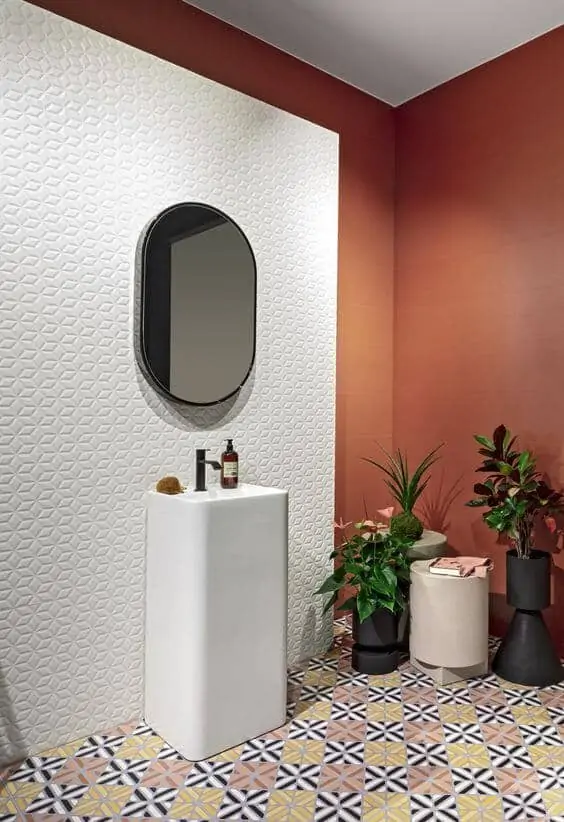 Source: Pinterest
Tub shapes
Classic clawfoot tubs are too beautiful and modern crafted to miss out on your bathroom accessory collection. However, round tubs may not be appropriate for lounging activities considering their circular shape. Anyway, these round tubs look attractive to kids since lounging isn't their major bath goal.
Adding unique plumbing fixtures to your bathroom tubs will create a big sense of peacefulness and abundance of your ideal personal space. Reckoning free-stand tubs to your bathroom will bring a modern feel and amplify your bathroom space reasonably.
It's quite evident that adding unexpected tub shapes to your bathroom takes bathroom decorations to another whole level.
Source: Pinterest
Room Lighting
Lighting is a very important aspect of decoration and design. Having a huge bathroom would be of so much advantage since you can draw natural lighting from outside through a built window or ventilation.
On the other hand, having a small room can limit you from having a window for your bathroom; forcing you to switch gears to artificial lighting methods. The addition of lighting accessories like lamps improves the room's visibility and fashion sense to a great extent.
Source: Pinterest
Eccentric double vanities
Deliberately going for this unique design choice means putting your best foot forward to ensure the presence of outstanding features in your bathroom. Rather than having a single vanity with two sinks, it's advisable to install two single vanities next to each other and achieve the breathtaking look you desire.
Source: Pinterest
Suspended Sanitary Ware
Do you prefer suspended or floor-mounted sanitary ware? You can't decide and don't know what the advantages of one or the other might be? Suspended sanitary ware give a modern look to the environment and is much more functional than the traditional one.
First, they are more hygienic: they have no support areas on the floor and make cleaning the bathroom much easier and faster. In addition, they give lightness and a sense of greater space to the environment as well as a smaller footprint.
Source: Pinterest
Floor Level Shower
Abandon the idea and view of the classic shower tray and dream of a contemporary shower that gives elegance and modernity to the space.
The floor-level shower gives a wider visual perception of the environment and is therefore very suitable for small rooms because it helps to save centimeters and create a more uniform surface.
Furthermore, the shower tray, being at the floor level, simplifies access, especially for children and the elderly, even with mobility difficulties: this is why this type of shower is functional and among the favorites for the bathroom of the future.
Source: Pinterest
Accent Wall
Among the trends in bathroom furniture you'll find the presence of an accent wall, specially designed to focus attention on a specific visual point and enhance the compositional elements. You can play with the dimensions, the materials, or with the decorations. In the modern bathrooms, you'll find mosaic walls, stone walls, or finely decorated walls, which catch the eye and convey emotions.
Designers today promote multi-material design in the bathroom, through decorated wall covering collections. Glass fiber, for example, allows you to play with geometric shapes and harmonious floral motifs, with high added value; it is a canvas that – in addition to suggesting an original creativity – guarantees a high structural resistance, so it can be used for any part of the bathroom, including the shower area.
Source: Pinterest
Ergonomics
Before 2021, designers declared a decisive battle against clutter in the bathrooms. No negligence, no mess and useless objects "for decoration". An impeccable bathroom today shines with cleanliness and a carefully thought-out arrangement of each element, which is achieved with the following furniture and accessories:
closed cabinets and storage systems;
special supports and tracks;
properly selected containers for care products and cosmetics.
However, this doesn't mean that your bathroom should be faceless. Decorating a room still allows you to bring exclusivity to the interior, and therefore should not be neglected in any case. However, it is essential to observe the sense of proportion. Obviously, it is not worth covering all the free spaces with figurines, candles, vases and posters. However, two or three stylish and correctly selected accessories will allow the bathroom to appear like it came out on the cover of a glossy magazine.
Top Color Decors For Your Bathroom
Black and white combination
This dynamic duo has been an all-time undeniable trend for both interior and exterior décor. Combine black and white tiles in high contrast to achieve brilliance in the tone of your petite bathroom.
Black and white designs blend well with golden shines and beige and generate a warm tone in your tub. Having black bathroom fixtures braces well with both traditional and modern wooden accents.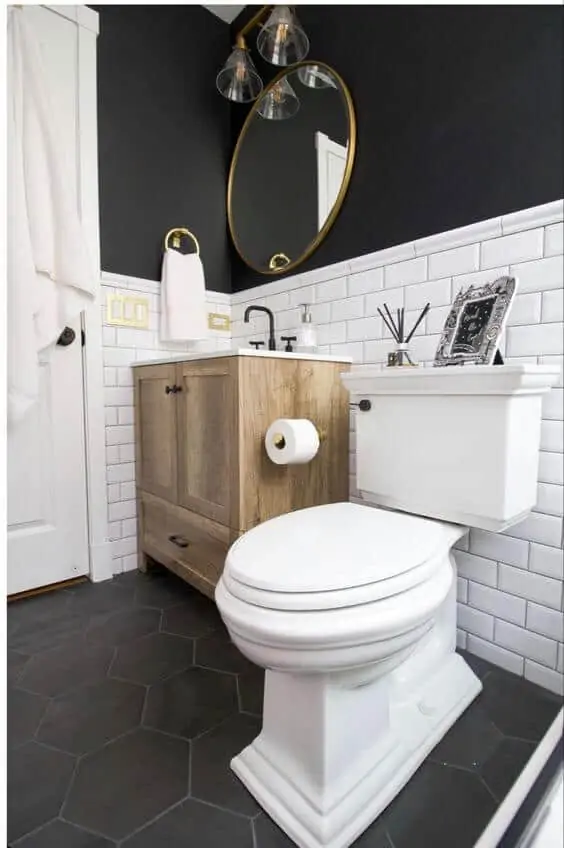 Source: Pinterest
Bright color shades
Use vibrant and accommodative shades to accomplish perfect combos that will make your bathroom look fascinating. Paint your walls with brighter hues to make them more original and stunning.
Having a bright color shade on your walls increases the emphasis. You implement emphasis in different sections of your surrounding by using deeper and muted color shades on less focused areas.
Source: Pinterest
Yellow
This color has dominated amongst top color choices due to its liveliness characteristic and extraordinary combos it brings to life. Make it part of your bathroom decoration since it increases your levels of creativity and generates an interesting mood in your surroundings.
A clear explanation as to why it has consistently kept appearing top even in bathroom trends 2022. Yellow color shades have been professionally designed and paired with other shades for accessories and room sections to create classic designs for our bathrooms.
The inclusion of bright shades, accessories and exceptional patterns will help make your bathroom magnificent.
Combining yellow shades with color blue instills a cheerful and delightful mood especially for youths and young ones at large. Neon yellow stripes blend perfectly on white walls to accomplish a very bright and interesting vibe.
Source: Pinterest
Green
The color of life and nature has widely dominated as a top trend in interior décor, especially during this new, fashionable decade. With its ability to easily combine and blend with other color shades, it has expeditiously been used for interior decoration and design.
Having a soothing green shade painted on your walls will give you the opportunity to bring other shades in and finish the look. This color is famously known for its generation of the feel of nature and wellness to one's atmosphere. It also increases the levels of creativity when you are working in a green-built environment.
Source: Pinterest
Blue
This color is prominent for popping up in your bathroom space and achieves a relaxing vibe all over the place. With its deep and elegant shades, blue can be paired with other lighter and brighter color shades to generate extraordinary combinations.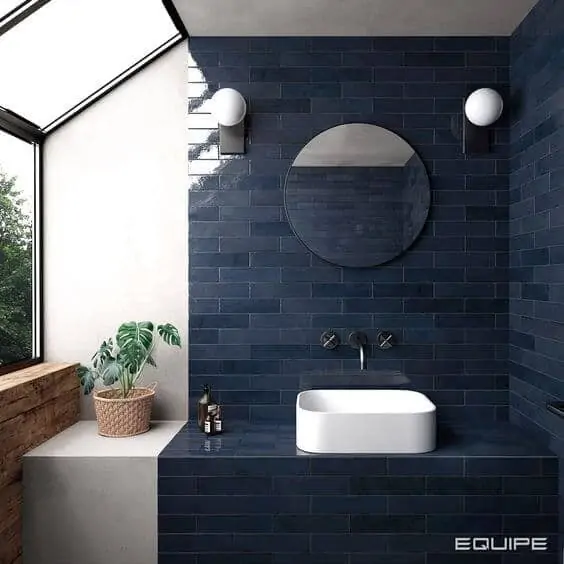 Source: Pinterest
More Bathroom Trends 2022 & 2023
These Bathroom Trends continue to follow the triumvirate of naturalness, individuality, and harmony. Thus, highly complex applications of the smart home, which, incidentally, continue to spread more and more in our lives every day, are based on natural materials of organic origin.
Space and Space Are Trumps.

While the bathroom used to be a shadowy existence in the four walls of your own home and served only to wash away the filth of the day and get a decent shape in the morning, today it is one of the most important rooms in the home a place of contemplation, elegant meditation, and retreat into his private life.
This process of upgrading the bathroom can, of course, be judged by the trends for Bath 2022, which tend to be open, spacious, and free. Thus, sitting and lying areas take up a space that invites you to linger and relax in the wellness bath. These can be found inside the fixed bath area, such as in the shower and outside. The latter can be sun loungers or boudoir-like seating that transforms your luxury bathroom into a part of the sensual realm.
The increasing abandonment of the conventional shower, which consists of a shower tray with a diameter of around 75 cm and is delimited by a sliding door, also clearly shows a trend reversal in the bathroom trends for 2022. The generous shower area, often designed floor-level to destroy the holistically harmonious appearance, is due to the changing sense of space and the demographic situation, which calls for accessibility and easy access in the sense of maximum self-sufficiency.
Good to Read: Trend Colors To Decorate Bathroom Sinks
Pure Nature as Visually Striking the Bathroom Trends 2022

Natural materials are on the rise in the bathroom. But, no matter how many possibilities you have with elaborate resin surfaces or other artificial materials, the diversity of nature is and remains inimitable.
Solid wood is used as well as cork, which offers exciting haptic experiences. Terracotta takes you into the exotic world of the Mediterranean baths while at the same time remembering the wonderfully sunny days in Tuscany or Menorca. These fabrics, which have long been known from the home's interior, add a touch of liveliness to the bathroom and endow it with warmth, authenticity, and authenticity. This can also be interpreted under the aspect of the "Hygge," a living trend from Denmark, which should bring peace, simplicity, and deceleration into everyday life.
Reduced Design Instead of an Extravagance

To turn the bathroom into a place of rest, tranquility, and focus on the important things in life, it is necessary to separate oneself from unimportant ones. Therefore, the reduced minimalist designs of the faucets, rain showers, handles, and accessories make their usual contribution to the interpretation of the bathroom 2022 as a functional place that does not need to attract attention with ostentatious opulence.
Especially in the case of a comprehensive implementation of the smart home concept, modern bathrooms have many sensors that automatically select the right temperature and are operated remotely or with hidden sensors.
To preserve the pure impression of the bathroom, bathroom furniture dispenses with handles which could cause a visual interruption. The showerheads of the modern rain showers are often embedded directly in the ceiling to destroy the straightforward and clear look of the frameless shower.
The Trends for the Bathroom 2022/2023

Bathroom trends 2022 or even the trends for the bathroom in 2023. The year will now come to an end in a few days, and for me, as a successful interior designer and renowned designer, it's time to look back and review the most distinctive bathroom trends in 2021 before looking at the bathroom trends for 2022. Much will accompany us in the coming year: for example, digitization and the smart home will remain with us in 2022 and conquer new peaks in our lives.
Intelligent building technology in the bathroom: Integrate your favorite music and an atmospheric light ambiance according to your wishes into your bath program, or use the possibility to adapt the lighting design to your own needs. To have the movie always in the right view. Yes, these are Bathroom trends 2022
Discover the new bathroom trends for 2022 by the designer Torsten Müller from Bad Honnef near Cologne Bonn Be it multimedia or digitization right up to lighting concepts – today, a lot is already controlled by mobile phone. How to do that you will learn from the professional
Trend Highlights in the Bathroom and Private Spa at the Imm Cologne 2022
The Most Beautiful Baths 2021: A Look-Back

Whether the Bathroom trends 2022 will come again in natural stone look will show up at the Cersaie in Bologna, it was shown again. The ceramics are no longer different from natural stone. In any case, it was a bad trend in 2021
The most important bathroom trend of the past year was under the motto " Back to nature. " Brilliantly polished and carefully sealed surfaces made of natural wood brought warmth and comfort to the luxury bathrooms in Germany. Other natural materials accompanied these sustainable approaches: Natural stone played a special role, contributing to the unique bathroom design like no other material.
With the right planner, some bathtubs shine.
Whole walls of slate or granite made simple showers into real objects of desire, such as those found in sophisticated spas and hotel wellness oases. The natural theme was flanked by sisal, linen, and bamboo, used in the accessories.
2022 Bathrooms Will Be Renovated

Here is the study by Houzz  about the BATHROOM TRENDS in GERMANY for download
Spa trends – well-being at the highest level. The courage for openness will come even more into focus in the Bathroom trends 2022.
Another trend that came in very personal terms was the change in customer perceptions and their desire to make the bathroom part of the home. Flowing transitions between bedroom and bathroom are now no longer extravagance but have arrived in the middle of society. In addition, the designs of the freestanding baths brought even more individuality into the design of the rooms. Rounded, angular, or rose-colored metal – there were no limits to the imagination.
Bathroom Trends – The Room

The bathroom will be looked at with different eyes in 2022. The fear to intervene in the building fabric is becoming ever smaller, so practical niches in the shower or over the sink can be created, serving as shelves. With its lighting from the inside, exciting accents will also be made in the bathroom in 2022.
Yes, tiles can now look just like natural stone without very high costs, such as the popular Carrara marble. This white natural stone is one of the best-known marbles worldwide. Not for nothing Carrara marble: the white gold of Italy.
Unfortunately, the wall coverings and the bathroom floor look the same today with most Germans: tiles, tiles. This arbitrary interchangeable scenery is not, in my eyes, a luxurious dream of a feel-good bathroom. That's why I'm particularly pleased that one of the most important bathroom trends in 2022 is going towards bathroom wallpaper.
What to Consider in a Bathroom Planning of Bathrooms Smaller Than 4 Sqm.
This can take a particular wall and create an exciting eye-catcher or wrap the entire bathroom in a dream of fabric, color, and style and thus transform the bathroom into an equal room in the house association. Today, bathroom wallpapers are available in all conceivable designs, colors, and styles. Moreover, the technical properties have been perfected so that even a permanent wetting with water, such as under the shower, the wet room wallpaper can not harm.
Many wallpaper manufacturers now also apply amazing wallpaper to the bathroom. Because manufacturers like Wall & Deco use the WET SYSTEM wallcovering GLAMOR   London art or Inkiostro Bianco to produce nonwoven and vinyl wallpapers that are water-resistant and, therefore, certainly belong to the bathroom trends of 2022. You can find more here: Wallpaper in the bathroom – wallpapers as a creative alternative to tiles
Bathroom Planning With Renowned Experts From Cologne Bonn

As far as the floor is concerned, the marble look is more in demand than ever. There were jointless floors made of huge marble slabs at many fairs, which belong to one of the smaller bathroom trends of 2022. The diverse patterns are drawn by nature radiate style, nobility, and elegance. In addition, you bring a lively accent in a minimalist-designed bathroom, which is loosened up by the ever-varying grain and the fascinating inclusions in natural stone.
Good to Read: Rustic Bathrooms: Here's How to Create the Perfect One for Your Home!
Bathroom Trends – Will Inspire You.

Another exciting trend for the bathroom 2022 is the tiles in the wooden plank look. It almost seems as if the light parquet extends from the living room to the shower and harmoniously integrates it into the living area. This approach makes the luxury bathrooms more genuine, warmer, and more natural. In addition, the architectural designs are reminiscent of Asian spas in Bali or Thailand, whose floors are covered with bamboo flooring.
Whether that will be an excellent bathing trend In 2022, the new TOTO bathtub will be shown at the ISH 2021 trade fair.
Bathroom Trends – The Decor

While until a few years ago, a bubble bath in the spacious bathtub was considered the absolute non plus ultra, the focus has recently shifted to the shower. The former monster with opaque frosted glass has become a high-tech design object.
This is almost unrecognizable: The white shower tray gave way to the floor level access, serving holistic aesthetics and following the trend towards a barrier-free bathroom. Moreover, the fully transparent glass doors are virtually invisible, making the bathroom 2022 particularly generous, even when implemented in a few square meters. Also, the floor-level showers increase the movement space by a continuous floor surface created without joints. Thus, a safe entry without tripping is guaranteed.
While the former shower cubicles just left enough room to turn around, the modern showers are actual feel-good rooms in small format. Here you can start the day optimistically under the refreshing rain shower. After working on the pleasantly warm stone bench under a warm Relax summer rain or switching on the sauna function, relax after a long winter walk in soothing steam. Moreover, technical extras that incorporate music, light, and fragrance into the cleaning ritual under the shower allow even something as banal as turning a morning shower into an incomparable experience that inspires you for the rest of the day.
Bathroom Trends – The Accessories

A look into the past is one of the most noticeable trends for Bathroom 2022. Vintage-style washbasins inspire and revive the stylistic certainty of centuries past. The pipes were visible to many manufacturers – clad in shiny steel, they look attractive as eye-catchers, especially in the guest bathroom. The bathroom furniture will also take on a retro accent in 2022: brass is just as much a topic as colonial influences reminiscent of the huge oases of well-being in Africa or South America. In addition, there are many echoes of the wild 70sto to observe. Brilliant colors reminiscent of liquid vinyl, filigree lines, and soft forms show stylish reminiscences of the psychedelic facilities of the time of Flower Power.
The idea of a Smart Home 2022 will take on futuristic traits next year. Technical functions and multimedia elements are gaining space in the bathroom. Still, they do not cause stress because of their constant accessibility but are specifically used to relax and facilitate everyday life. The favorite music streams out of invisibly built-in speakers, the light can be adapted to the smartphone's mood. At the same time, the LED lighting on the mirror with anti-fog effect and emotion function lets the day start smartly and effectively according to your wishes.
Wireless charging stations complete the complete program, which optimally fits into your tight daily routine. With a professionally composed light therapy, the appropriate sound effects, and a skillful water massage, you can look forward to a particular program in the coming year after the end of the successful working day.
My Favorite Ideas for Bathroom Design

The individual bathroom trends increasingly influence the idea of customizing. This makes it possible to refine the surfaces as desired and thus create a private bathroom that can not be compared to any other. This access matches my taste because the most beautiful bathrooms in 2022 arise when they fit perfectly with their owners and feel comfortable in them.
Tips for bathroom planning 2022 by the expert team around Torsten Müller from Bad Honnef near Cologne Bonn
With seating, furniture consoles, and the return of the make-up table, the return of the boudoir will come next year. Feminine forms, subdued light, and feminine accents bring femininity to life, and lush chaise longues create a sensual atmosphere.
In 2022, showers will serve not only for cleaning but also for health. For example, at ISH 2021, my partner Dornbracht presented a shower called aqua pressure that further developed the approach of traditional Chinese medicine so that it now finds its way into the bathroom. The Sensory Skyy also supports mental health through the programmed programs designed in collaboration with physical therapists and sports physicians to enhance well-being.
The lighting, which is one of my favorite stages in establishing a bathroom, is more than ever dispensed with direct light sources and spots, let the ugly shadow produced on the face. Instead, indirect recessed luminaires are used, which allow a soft illumination of the room without disturbing it – one of the bathroom trends of 2022 with the most like.
Of course, the individual wishes are included in planning the most beautiful bathrooms in 2022 – atmospheric light, which directly affects the mood, vitality, and relaxation, is integrated into the bathroom concept 2022 in a natural, unobtrusive way.
Bathroom Trends 2022 – Conclusion
Regularly check out for new trends and designs to accent your bathroom for relaxation and comfort purposes. Repaint your bathroom with marvelous and extraordinary color shades; not forgetting the insertion of well-bred accessories that will make your shower room exceptional and stunning all the time.
Be inspired by the trends for the bathroom 2022, and watch me as I implement and individualize this coming year. On Instagram, Facebook and Twitter, I am always happy to receive your suggestions, opinions, and wishes about my current projects.
Until then – a relaxed start to the year 2022!
Backlit glass or cloth will undoubtedly determine the bathroom trends for 2022.
Following the above bathroom trends 2022, you'll have the ability to design and influence the type of mood or vibe to want to set aboard. Find more bathroom trends to choose your perfect one here.
Do you want latest Trends straight to your inbox?
Thank you for subscribing.
Something went wrong.