Elegance in style and the bold statement are exactly what the exterior of your house should reflect. Therefore, trends are a big consideration that you should have in mind if you have to make your home as attractive as you desire it to be and reflect the elegance in your style. That already explains why you need to know so much about exterior house color trends 2022.
The latest trends often make your place attractive to you and many others too to who you are connected with contemporary designs. Of course, we are talking about the clean whites, the cool neutrals, and all the vibrancy that is the welcoming factor presented by the house not only to you but to many other visitors for many, many years. So now, let's see what 2022 trends demand exterior house colors.
Trend 1
Beautified Brick
Sometimes it takes a simple design to make something very attractive. For example, you can color the surfaces of your bricks in a certain pattern to make them so appealing. However, the house's attractiveness makes the color an important factor to consider.
Sherwin Williams color balanced beige is one of the outstanding selections that make a difference on your bricks. With beautified brick, you can add a natural taste of dark wood that usually plays well for the beige effect.
Trend 2
White-Blue Waterfront
Credit: houzz
Credit: IKO
A beautiful waterfront cottage or large house looks even better when the color seems to blend in with the impression of a waterfront blue or white effect that makes a nice match and proper selection for any waterfront building.
White, however, takes the largest part when a combination of the two is applied. White is quite bright and ought to cover a large section with blue on the edges to create the white-blue glamour that is so welcoming for a waterfront.
Good to Read: Walkway Ideas on a Budget
Trend 3
Desert Oasis
Credit: Homes By Towne
Credit: trendsideas
Credit: trendsideas
Like any other type of art, you need to paint out the best impression of what you need the exterior color of your house to look like. For example, the exactness of this impression brings out the full-color tone of a true desert Oasis.
You need to plan well if such a project is to become real. For this trend, a lush green lawn with a bit of desert sky blue and some white in the correct pattern would give absolute success. Of course, some pine and other olive-green succulents also come in to provide a final touch.
The coordination of these colors will bring out the real artistic impression of such glamour in the shade of a desert oasis impression.
Trend 4
Sprawling Timeless Contrast
A sprawling look of elegance often arises from a deep, incredible look focusing on the contrasting. When we talk about contrast in the light of nice exterior coloration, we find it important to discuss the difference between the trim and the broad field.
A white on the broad field could blend in, so we'll deem it fading grey to bring out the contrasting but awesome effect of the sprawling timeless contrast. White and grey are just but one of the many examples of beautiful and charming combinations that could be so welcoming over many years to come.
Trend 5
Ivory + White + Aqua
Credit : bobvila
Credit: Inviting Home Exterior Color Palettes
Precise elegance for a symmetrical house solely relies on a bold statement on each and every visible part of the house. This trend, for example, depends on the effectiveness of different tones and intensities of almost a single color, white.
For such a selection, blue crowns it all on the front door with a bold red or brown creeping on a little through the light over the front door. Such carefully selected patterns naturally welcome visitors and owners alike every time they approach it from far.
Trend 6
Deep-Sea, White, and Red
Credit: bhg
Sometimes being attractive does not necessarily mean that the colors of the exterior of the house have to be "loud" in the sense that they are very bright, noticeable, or overpowering. This is the first classic consideration we are talking about under this.
For long enough, this glamorous mix of red, blue, and white has been outstanding. With the deep-sea blue on the field walls, red on the staircase, and a cool white on the margins, you would achieve untold elegance with deep colors that do not overstate or present too much color rather than the attractive aspect of simple deep coloration.
Therefore, this combination has existed for more than a century and still rocks the world of exterior house color trends. That is how it finds its way into the exterior house color trends 2022, and more of such colors will be found in exterior house color trends 2022 and exterior house color trends 2023.
Trend 7
White, Clay, and Mossy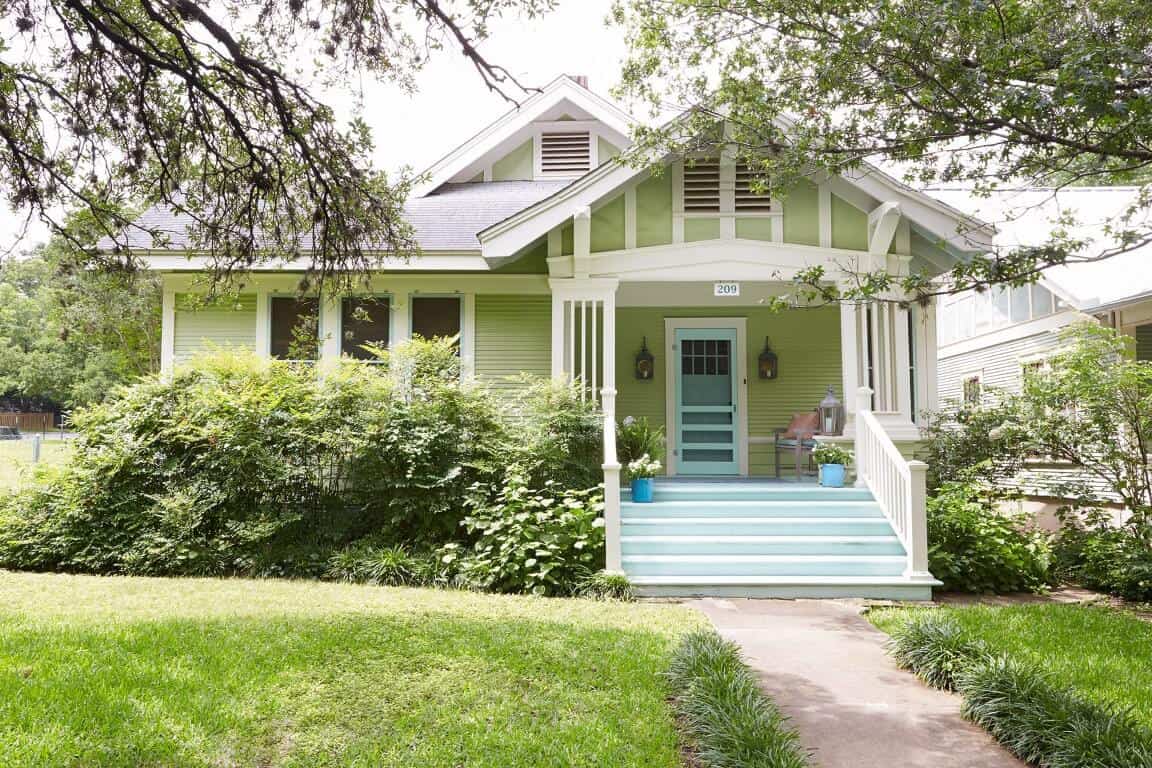 Credit : bhg
It is usually very important to consider the landscape. Some clay with mossy green blends nicely with some suppressed white to fit in many common landscapes. This is also a vintage pattern that has persisted and seemingly never leaves the exterior house color trends. Classical touches such as this usually have a nice impression and are meant to sink into their environs.
Trend 9
Black, Yellow, and White
Credit: laurelberninteriors
A brick cottage with white all over the field walls seems to express with emphasis the architectural designs. To add on the boldness, some yellow or black over the porch windows, not forgetting the porch staircase rails, brings it home and make it even more welcoming. Effectively, Sherwin Williams with black Concord and buff tones the exterior of your house to perfection.
Trend 10
White, Blue, and Grey
Credit :bobvila
Credit: Homebunch
From way back in 1940, this color combination is still a trend in 202 blue merges smoothly with grey to build a cool color accent of low profile that still is so inviting and welcoming to you and your visitors for long.
The blue is effective over the front door with grey on the wider field walls all over with a little white to clean up the margins. Grey matches perfectly with the driveway, and the whole color mix blends properly into lush green lawns.
Trend 11
Soft Gray With Canary
Credit : town-n-country-living
Most modern architectural designs are well clothed in soft colors that do not necessarily make bold statements but hide the beauty in low color tones. Preferably, the soft colors wash the largest part of the house with sections of the front in bold colors.
The canary yellow, soft gray mix is one of the major trends of 2022 and brings out creative glamour in the coloration pattern. It is one of the simplest designs that easily tone the exterior of the house to the utmost perfection.
Exterior House Color Trends 2022 – What to Consider?
All we want is to create perfection from simple color selections and patterns. Unfortunately, it is sometimes tough to come up with effective, eye-catching selections. It needs a little bit of art and majorly relies on what you like it like.
A home should be a Haven of comfort, which begins from what it looks like. There are a number of factors that we have to look into whenever we are selecting exterior color trends. Let us highlight some of the major ones.
How Do You Like It?
The base of all these discussions is what you like about the exterior of your house. Once you want what you have selected for the appearance of the exterior of the home. Your preference is key in deciding since you need to have liked where you will be staying for the longest time in your life.
In that case, you have to decide which colors will be best for you, but to some extent, it is equally important to include trends in your decisions.
Landscape
A perfect exterior color selection would make your house match the surrounding. Some hunter's green, for example, befits a mountain surrounded by lush green lawns on the front yard. Some Pearl white on the door and windows completes the perfection the same way a deep blue would finish off the waterfront cottage to the proper effect.
The Design
Exterior color trends tend to be dancing to the tune of the design of the house. Modern buildings, for example, are well set when coated in deem or subdued colors with emphasis on sheen starting from shiny glass and other jeweled or metallic decorations.
Exterior House Color Trends 2022 – The Final Word
We have always seen that your house and the environment are good when you like them.SSo you need not make them a showpiece. Sometimes, the simplest artistic impression makes it nice all along, and people get to enjoy it as much as you do.
Some other ways are expensive or sophisticated, but when they are the ones that positively affect your taste, you can freely go for them. However, making it needs you to be in touch with the latest trends. This is what makes exterior house color trends 2022 an important topic to follow if you have to effectively select the colors for the exterior face of your house.
Even if you are not used to chasing trends, a little update could be enough. If you want to deal with your interior, here is a collection of outstanding interior house designs.
Do you want latest Trends straight to your inbox?
Thank you for subscribing.
Something went wrong.