The Nordic charm of the bay window: a window on elegance
Ever heard of the bay window? Try to imagine being in one of those many films set in Victorian England. You know those magnificent English houses with that small nook with large windows, which is a little reminiscent of glazed balconies, but much chicer and more elegant? That's a bay window!
Source: Pinterest
You've bought a house with one, or you're thinking of creating one out of your space, but you aren't sure of how to exploit it? In the next few lines, you will find out everything there is to know about the bay window and you will find many useful tips for decorating it in the best possible way.
Bay window: a window on the world
Bay window literally means "arched window" and is nothing more than a protruding corner typical of Victorian buildings and those of Northern Europe. It is characterized by windows with a concave opening protruding outwards capable of creating a particular and unique corner to be furnished with style and elegance.
As if it were a closed balcony, or a design veranda overlooking the garden or the city street, the bay window becomes a sort of suggestive sitting room, in which to relax in the peace of a silent house, or where to meet friends over a cup of tea, to be served strictly in stylish cups, while sitting on fluffy pillows and enjoying some delicacies.
Source: Pinterest
In fact, inside the bay window you can breathe an almost fairy-tale atmosphere, as if you time travelled somewhere in which time stands still and the clock always strikes the same time. In short, having a bay window is almost a small princely luxury, which is only typical of certain countries or time periods.
From a structural point of view, there are two different types of bay windows:
polygonal shape: in jargon it is referred to as "bay window" and includes the subcategory of the "bow window". The front and side windows have square lines;
circular in shape ("bow window"): the projection of this window recalls that of an arch and the interior space has a round surface.
The bay window can be present both on the ground floor and on the upper floors of a building, with a direct view of the garden or the city skyline. The panorama will certainly change, while the creative possibilities to make this corner special will be many and varied in both cases.
Read about latest Trends About curtains
Decorative ideas
Furnishing a bay window can be a lot of fun, provided you know how to do it! Here's how to furnish it and make it a highlight of your living room or dining room!
When a living room is equipped with a bay window, you can achieve a great filling effect with a sofa. Pay attention to the shapes though: an angular bay window acquires space with a classic sofa with straight lines, while an oval one gains visually when associated with a curved backrest sofa.
In the centre of the room you can place a low table where you can store your favorite books: you will thus obtain a perfect reading corner where you can enjoy a moment of relaxation on your own!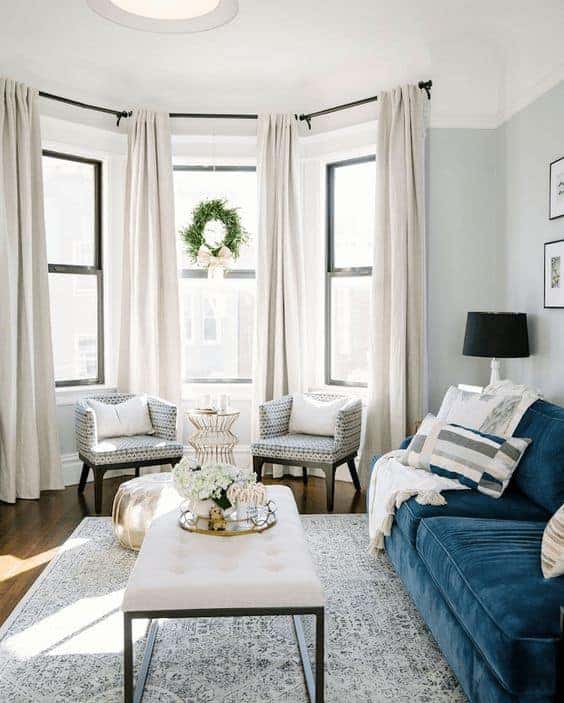 Source: Pinterest
If the idea of ​​the sofa does not do it for you, you can opt for a few comfortable armchairs instead, complemented by elegant footrests to be placed around a rustic wooden coffee table. On the floor, a large carpet with optical patterns, or the carpet, will make the room warm and familiar.
In the event that the bay window extends through the kitchen or the dining room, it typically offers an ideal surface for a table. In this case the best solution is represented by a corner bench: this is the solution that will leave the most space and at the same time highlight the particularity of the bay window. Be careful as it may prove necessary to adapt the dining table to the size of the bay window. Also remember to maximize the comfort of the bench by adding some soft cushions that will make sitting pleasant.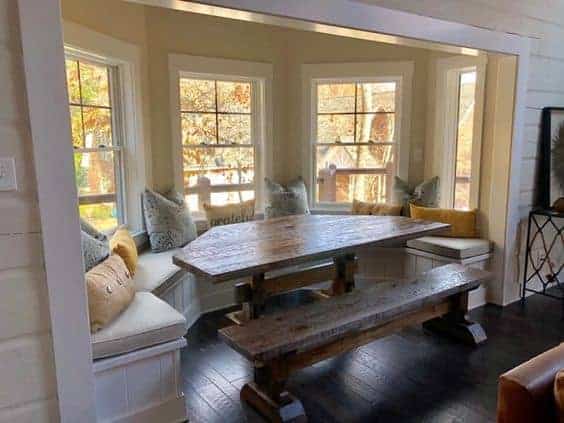 Source: Pinterest
Imagine sitting for dinner in such a cozy space, with a pendant lamp that creates a soft and enveloping light; the windows protect you from the outside, but at the same time give an impression of freedom.
To complete the picture, the large windows cannot miss elegant curtains, to be chosen in refined fabrics such as cotton satin or silk: choose them in regal colors such as magenta red or cobalt blue, so the "royal court effect" will be guaranteed.
The advantages of the bay window
The bay window is characterized not only by its beauty and its timeless charm, but also by many other advantages. Let's find out the most important ones together!
An extra space: the bay window amplifies the living space while maintaining the feeling of a unique environment. Unlike a balcony, a bay window is covered, so you can sit comfortably even in winter.
More light: a bay window brings much more light to an apartment through its many windows. Rooms with a bay window are always particularly bright, open and pleasant.
An incredible sight: as if that were not enough, a bay window gives the possibility to admire not only the view of one side, but it is like having wide-angle eyes. Thus, you will have at your fingertips the splendid view of a balcony without the risk of freezing.
Decoration of the facade: from inside the bay window you cannot see the result of the addition to the facade, but you will be aware and proud of it because every person who passes your house will look up in order to appreciate the exceptional nature of your home.
Good to Read : How to separate your dining room and living room in an open space
Curtains for the bay window
If privacy is your main concern because you want to protect your bay window from any spectators on the street, lights and traffic, you can opt for Venetian blinds. This model has many advantages, such as being able to transform the environment into a separate and private place from the outside.
No one will be able to disturb your relaxation or see what happens in the privacy of your bay window. Venetian blinds allow you to adjust the brightness of the rooms with precision and simplicity but above all they guarantee the right privacy, thanks to their adjustable slats.
You will be able to completely darken the space and thus prevent any kind of intrusion.
Source: Pinterest
Choose from the various models – standard, aluminum, wood – to fully appreciate your veranda while relaxing at the end of the day. Venetian blinds are also available in many colors, so you can decide whether to recall the same shades of the interior decor style or create a strong contrast by opting for completely different colors.
If instead you are one of those who love romance and a refined atmosphere, then the best choice is to buy thick velvety curtains.
This solution is certainly more sought after than the previous ones, but it will guarantee you a unique atmosphere, which will improve your mood. You will feel relaxed and satisfied thanks to this functional and resistant model, which will harmonize perfectly with the environment to give you a dream bay window.
These types of curtains will work wonders for solar shading, which will give you unforgettable moments of comfort. What more could you want than well-being and comfort to improve your mood?
Good to Read : Bedroom Window Treatments And Curtains
Conclusions:
Bay windows is the largest category, which includes both bow windows and oriel windows. The bow windows differ from the oriel windows in that the profile protruding from the facade is circular in shape, while in the rest of the cases it is polygonal in shape.
In essence, therefore, the bay window is nothing more than a windowed part of the structure of a room, made with three or more window panels positioned at a higher height than the walking area, which protrudes from the front of the building, creating a sort of balcony : a welcoming and very bright space, ideal for facilitating the entry of natural light and increasing the functional space of a room.
As we have seen, this window is typical of the most classic and retro style environments. But in contemporary architecture, the bay window can be transformed into a design solution that allows you to create fascinating closed panoramic spaces and expand the rooms towards the outside. In this way they immediately become a focal point for the entire home, completely transfiguring the interior and exterior of the house.
Do you want latest Trends straight to your inbox?
Thank you for subscribing.
Something went wrong.