If you are grim at the sight of your old cabinets, there's a high chance that you need a change. But have you thought of the shocking price of a complete cabinet replacement? Do you think there's nothing you can do about the entire look of your kitchen?
Well, think of us as that firefighter that helps you claw your way out of a blazing fire because we are here for the rescue. Replacement kitchen doors are a cost-effective option, especially for kitchen remodels. All you have to do is get new cabinet doors, and you'd be surprised at how much it can transform your entire design.
Source: Pinterest
Getting new doors instead of entire new cabinets would help save your time. Imagine having to wait till eternity before your entire kitchen gets fixed; that can be disruptive to your routine. On the other hand, replacement kitchen cabinet doors are an affordable option and a great way to reuse your existing cabinets, especially if the frame is still in good shape.
How Much Does Replacement Cabinet Doors Cost?
Although replacement doors are a budget-friendly option, they are not free. You still have to change the old doors into a new look, and that might require some cabinet hardware, drawer fronts, and maybe even end panels.
Source: Pinterest
The cost estimate for new kitchen cabinets is between $100-$1000, depending on the installation's various factors. The average cost for semi-custom cabinets ranges from $160-$380 per linear foot, and if you want a fully custom one, it would cost you about $700-$1000.
Even if you've decided to change the existing doors by yourself, it would still incur some cost at your end. You would have to take care of the materials and tools used during the installation process. Although you might be able to save a fraction of the cost and your tools would remain important.
Source: Pinterest
If you want a full replacement of old cabinets for semi-custom styles, it would cost about $3200-$8500 to fix it up. For an average custom version, you would spend up to $12,500-$18100 to change the older cabinets. This means you would have to spend a whole lot of money.
Good to Read: Smart & Creative Corner Kitchen Cabinet Ideas
Factors That Determine the Cost of New Cabinet Doors
You might have heard that merely choosing another paint color for your cabinet boxes and existing doors would solve the problem, but that is only a quick fix. Getting new hardware, new veneer, and new doors is an excellent choice that an average homeowner can afford.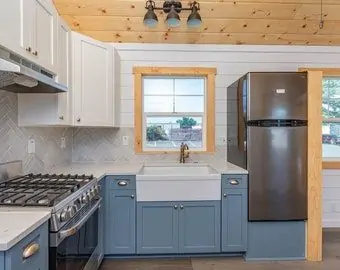 Source: Pinterest
Various cost factors determine the look of your upper cabinets and base cabinets. Your cabinet refacing project is mainly governed by:
Size of the Kitchen
Whether you have a small kitchen or a large one would influence the number of cabinets installed. In addition, the width and length of your kitchen, including the level of space that your doors are occupying, would determine the total price of getting a kitchen renovation. For example, the amount you would spend on a typical 10-foot cabinet would differ from a 12-foot kitchen as the latter would incur higher costs because of the disparity in size.
Source: Pinterest
Labor Costs
If you've decided to save installation costs by installing and fixing up your new doors by yourself, then you need not worry about this. But if you know you lack the expertise required to fix new doors properly, you would have to consider the cost of labor. For example, replacing one door would cost you between $140 and $220, depending on the professional cabinet installer.
The service might require expert measures for hinges and new doors. Also, it involves the removal and installation of the new doors. In some cases, it requires that the installer plans, purchases materials, and protects your kitchen's overall frame. If you believe that your kitchen needs a professional touch, you can hire someone to handle the installation for you.
Source: Pinterest
Wood Species
The type of wood you decide to use for your kitchen cabinet door, especially if you've chosen to use this material, determines the general refacing cost. For example, you can use an affordable red oak species or a white oak material for a solid wood panel door. Other types of materials include pine, cherry, birch, maple, and hickory. To make wooden doors, you can use any of these materials. However, they vary in cost.
Good to Read: Guide to Choosing the Right Kitchen Cabinet Door Size
Type of Cabinet
There are three types of cabinets. They include:
Stock cabinets: Stock cabinets are easily affordable ones. This type of cabinet uses both standard styles and measurements, which offers limited possibilities to customers. Stock cabinets are structured off-site, and they come in different dimensions. A major disadvantage of this cabinet type is that it can fail to fit into the exact measurement of your kitchen.
Source: Pinterest 
Semi-custom cabinets: This type of cabinet is a better idea than stock cabinets, but it doesn't meet the standard of custom cabinets. They are lesser in cost compared to custom cabinets, and they are equally durable. Although you can get this type of cabinet across various sizes, it is still quite limited in style. The aesthetic appeal can be enhanced with the proper hardware.
Custom cabinets: Custom cabinets are built by a cabinet maker who ensures a perfect fit for your home. This is after making the proper measurements and calculations about your kitchen layout. This is the best option you can get, but it has higher prices than the others. With this cabinet type, you need not worry whether your door fits or not because it was made specifically for it.
Source: Pinterest 
The type of cabinet you choose can majorly be factored out within your preferences and the one you can afford. Either way, it would determine how much it would cost you to replace your old doors with new ones.
Door Style
Apart from wooden material, there are also other styles for your kitchen cabinet door, and the one you choose would greatly determine the amount of money you would spend. For example, here are the different face frames for kitchen doors:
Rigid thermofoil doors: A thermofoil door is a style that lives up to its name. It is an easy-to-clean door style that requires only soap and a sponge for maintenance. This design is highly durable, and it takes time for it to either fade or peel. In addition, it has a vacuum chamber that is uniquely sealed without affecting the beautiful design.
Source: Pinterest 
Real wood veneer doors: This door style is different from wood in various aspects. They have a natural feel and also create a warm feeling around your kitchen. You also have the liberty to choose any style of finishing that you prefer most. It ranges from high gloss, matt, saw finish, brushed, stained, real sawn, etc.
Raised panel doors: The center panel of this door type is slightly raised; it is higher than the surrounding wood material. You can use them both for modern kitchens or traditional ones. This design can use either wooden or glass materials as inserts to enhance the beauty. Based on your preference, this door type can either have square edges or arches.
Source: Pinterest 
Glass doors: If you want to design the perfect modern kitchen for your home, you can use glass doors. This is one of the most expensive materials you can use for your home decor. It offers an open and bright look to your kitchen while placing your utensils and appliances on display. In addition, you can use a glass door style as a center panel as opposed to the regular wooden material.
Shaker cabinet door style: This door style is not new. It has been around for quite a while, but it has been able to stand the test of time by constantly incorporating contemporary designs to give off a minimalist look. You can also integrate new hardware with this style so your full kitchen can have a unique look.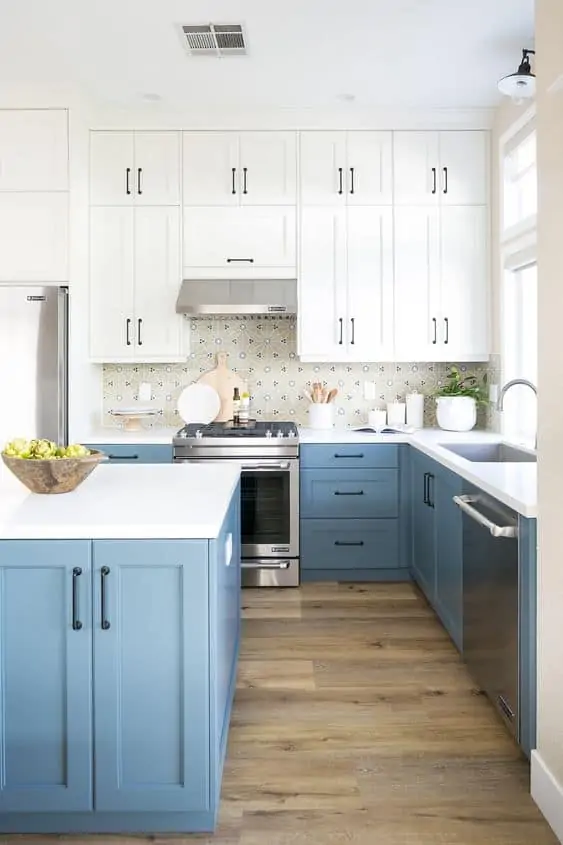 Source: Pinterest 
All of these drawer faces differ in their prices. Most common designs are easily affordable, while some door styles are a good idea for luxury homes. Depending on your existing cabinet design, you would have to choose the appropriate style for you.
New Materials
If you've decided to fix your new doors yourself, you would have to consider the material costs to get them fixed. You'll have to cover the costs to get galvanized nails, door latch, if necessary, wood shims, and screws. You need to know the right places to purchase these materials so you don't end up with inferior ones that would only waste your time and money. Also, you must have proper knowledge about how to fix new doors and perform the right measurements per square foot to ensure that the door fits perfectly into the space where it is needed.
Source: Pinterest
Before you go ahead with a major remodel for your house, it is only wise for you to count the costs. Take this as your cost guide for all the purchases that you would have to make.
Good to Read: Kitchen Paint Ideas & Colors With White Cabinets
Why You Should Get a Cabinet Door Replacement
You should know that your cabinet door needs a replacement when it is already showing signs of wear and tear. This means it is already old, or it has been used roughly. Either way, when the cabinet doors fail to function correctly, it only means that you need new ones.
Source: Pinterest 
Apart from helping you save costs, a cabinet door replacement would help you update the look of your kitchen into a more modern one. Your kitchen can now look polished, neat, and sophisticated with a replacement door.
If you've started to make some changes around your kitchen, it is only normal to include your kitchen doors in the process. New doors for your cabinet would serve as a perfect complement with the little touches you've made around your kitchen.
Source: Pinterest
Final Thoughts
You can use different strategies to make your kitchen look better; however, getting new cabinet doors would help you save resources more. In addition, with new doors, you can gain better confidence in your kitchen design and go about your business for more years without bothering about your kitchen doors.
Do you want latest Trends straight to your inbox?
Thank you for subscribing.
Something went wrong.